13
min read
I recently hosted a virtual wine tasting called "Prosecco is Not Italian Champagne." The title was in response to someone I met a few years ago who called themselves a "wine educator," but who was really just a salesperson for a wine club of truly shitty, poorly made, private-label wines. As a guest of the host, I didn't feel it was my place to interject too much, but at one point she told this group of mostly casual and certainly impressionable consumers that "the French word for sparkling wine is champagne, and the Italian word for sparkling wine is prosecco."
There is so much wrong in that statement, I don't even know where to begin, but it is the sort of mistake that gives everyone in the wine industry heartburn. A startling number of consumers already don't know the difference (to be honest, many don't even care to know), but when this sort of misinformation is reinforced by someone of dubious authority, it becomes an entrenched falsehood. By framing Champagne and Prosecco as synonyms, she unwittingly suggested there is such a thing as "Italian Champagne" and "French Prosecco." Which of course, there is not. Champagne the drink can only come from Champagne, a northerly region in France. Prosecco can only come from Veneto and Friuli-Venezia Giulia in Italy.
If it sounds like I am splitting hairs, it goes deeper than that. Her comment also overlooked a whole galaxy of French and Italian sparkling wines — none of which are called champagne or prosecco — that are truly worth seeking out. (For the record, the French word for sparkling wine is mousseux, and in Italian it is spumante).
I get it: this is confusing stuff. Wine is riddled with arcane parameters and labels that tell you absolutely nothing about what's inside the bottle. It is a big reason why so many people simply give up and never learn the basics of wine, because even the basics are intimidating.
But the rewards of knowing just a little bit can be profound.
As this year draws to a close and many wine drinkers undertake their annual flirtation with sparkling wine, let me give you a quick and easy guide specific to Italian sparkling wine. For it is here, in Europe's boot, that you can find some truly excellent wines at a very good price.

---
Prosecco
What is Prosecco?
Prosecco is a particularly misunderstood wine. Made primarily from the Glera grape and harvested only from vineyards within a large zone in northeast Italy, it is produced using the tank method (or metodo Martinotti, in Italian) in which a secondary fermentation occurs in a tank, generating the bubbles. It is this last attribute — more than origin or grape variety — that puts Prosecco and Champagne on different planets. Champagne gets its bubbles via secondary fermentation that occurs in the bottle, and there are dozens of other places in the world that follow that same method as well, including a handful in Italy, which I profile below. One is rich and deeply complex (Champagne and its cousins), the other is fresh, fruity and simple (Prosecco).
Within Veneto and Friuli-Venezia Giulia, there are many defined areas for Prosecco production. The largest such zone (Prosecco DOC) has the biggest volume and the least stringent quality controls. It is also the most widely available and cheapest Prosecco. Think of La Marca and you get the idea.
Prosecco DOC wines come from the plains of Veneto, yielding simple fruit that can be harvested by machine. The Prosecco Treviso and Prosecco Trieste DOC denominations are a more refined area along these plains, but the wines are not noticeably different.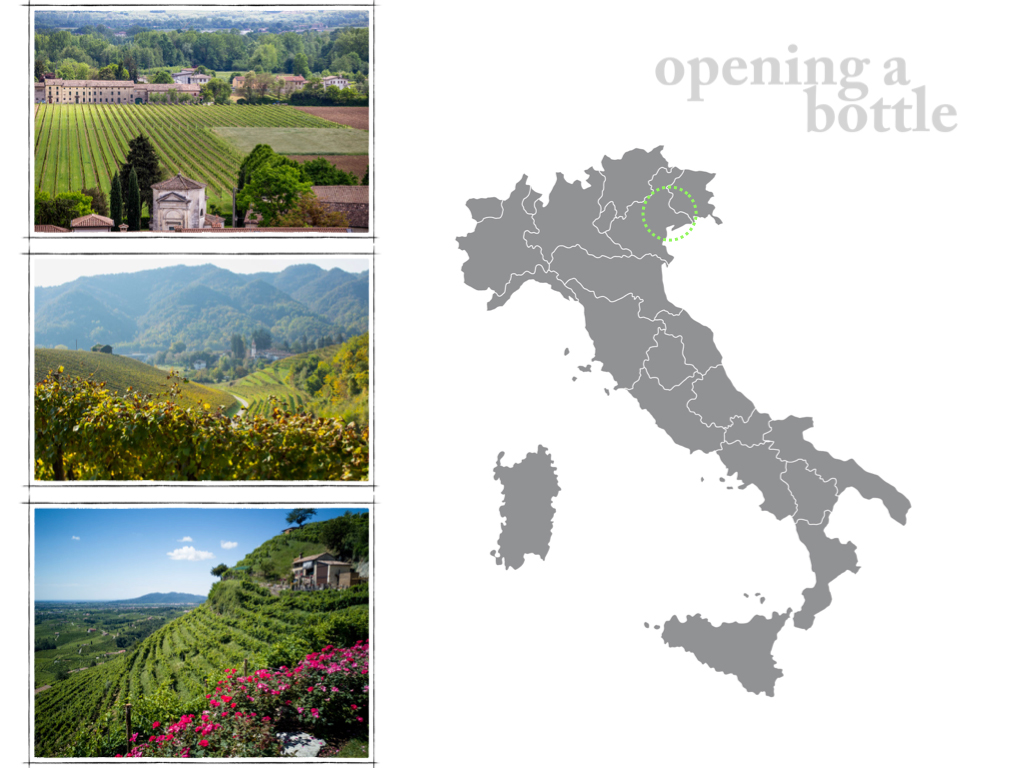 Things get interesting with the Conegliano-Valdobbiadene Prosecco Superiore DOCG category, which comes from the foothills of the Alps. These wines tend to be a little more compelling in the glass, with the most complex versions coming from the named villages/single-vineyard sites known as rive. The Cartizze subzone is often considered the pinnacle of quality, though I don't always agree with that as a blanket statement. The vineyards here are certainly the most dramatic, and there are some high-quality Prosecco from Cartizze, but what's more noticeable with these wines is the tendency to leave a little sugar in the bottle after fermentation (labeled Dry or Asciuto). This leads to a fuller wine, but not necessarily a more complex one.
Then again, this is Prosecco. Who cares about complexity? These wines are meant to be fun, and we should apply our expectations accordingly.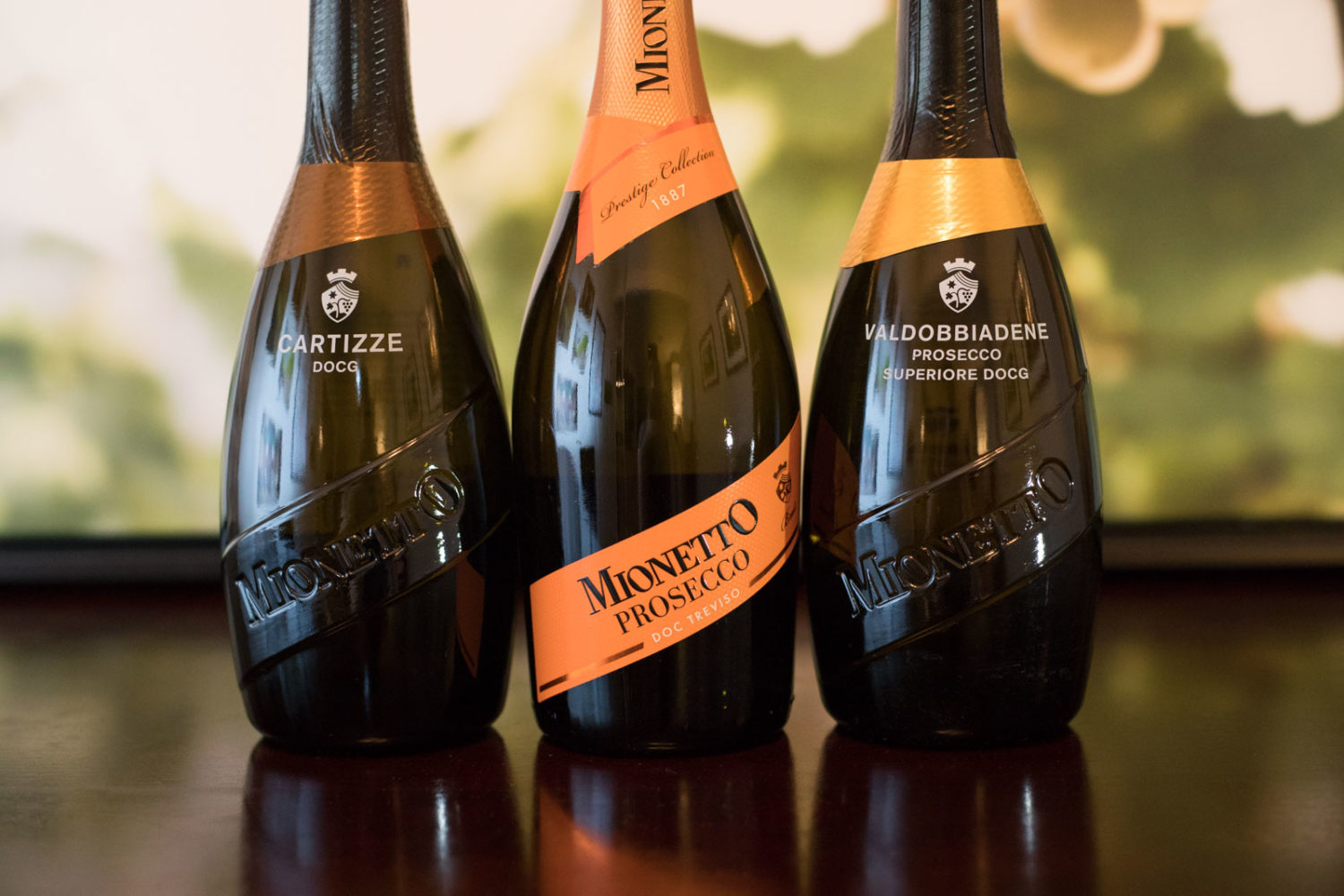 Three variants to know about:
Asolo Prosecco DOCG is another upper-echelon appellation for Prosecco, although examples from this small zone are rarely imported into the United States;
The new rosé category of the Prosecco DOC appellation, which is made from Pinot Nero and is pink (I've yet to taste an example of these that's worth writing about), and …
The col fondo or sul lievito category of Prosecco, which is typically a lightly sparkling wine with more lees contact. These are often cloudier versions of Prosecco with a more sour note. An acquired taste, but often compelling.
What Does Prosecco Taste Like?
Italy's juggernaut sparkling wine is a pleasantly tart yet fruity drink with vigorous bubbles. This makes it ideal for mixing in cocktails (such as a Bellini or Aperol Spritz) or simply drinking for the pure fun of it. Fruit tones tend to be in the neighborhood of crisp apples and green pears, as well as some blueberry. Some can have a white flower tone, though that's not often. I rarely detect anything more complex than that, even from Cartizze wines.
Prosecco's Biggest Pro
Price and predictability. Prosecco has become popular because it is easy to mass produce and — in its own way — it has become the anti-fine wine wine. I have no problem with people loving Prosecco, even if I prefer the complexities of other Italian sparkling wines by a long shot. However, the landscape of Conegliano-Valdobbiadene is among the most visually arresting in wine. I am utterly fascinated by the viticulture of the rive and Cartizze vineyards.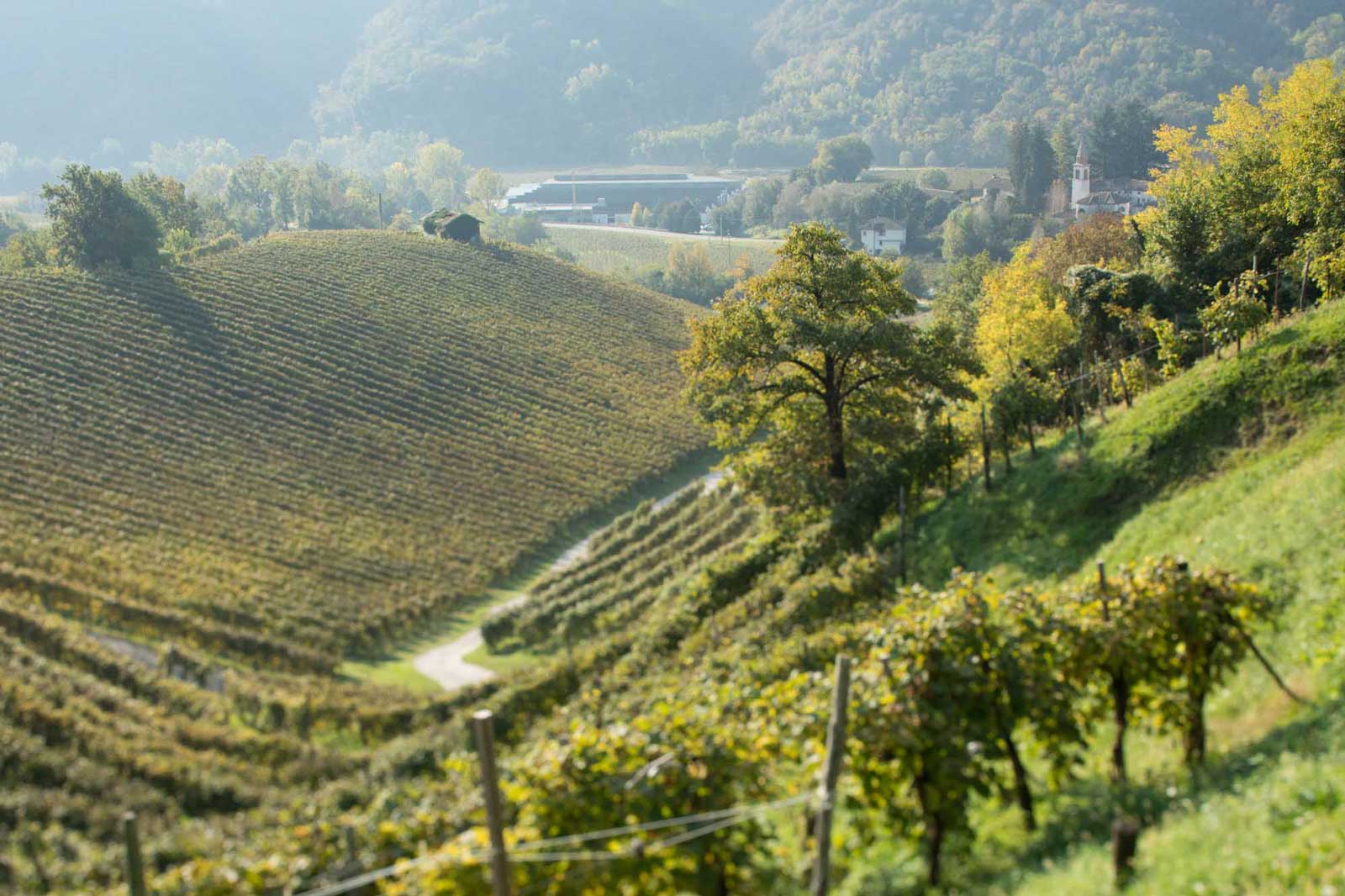 Prosecco's Biggest Con
Prosecco's biggest pro is also its biggest con. Because so much of it is mass produced on the cheap, the Prosecco name has become synonymous with a specific identity, so it can be predictable and boring. Efforts to create a fine wine category for Prosecco (chiefly with the Conegliano-Valdobbiadene Prosecco Superiore DOCG) have not completely translated into Champagne-style expectations. Certainly the demands of these vineyards require more care, which has led to better wines — but only marginally better. Fortunately, they are also only marginally more expensive, so still worth it in the end.
The bottom line is this: very few examples of Prosecco deviate from a set norm, and that limits the potential to explore these wines as a curious wine drinker. In fact, this is why the col fondo category is so exciting to explore: it has quite a bit of variability from bottle to bottle and year to year.
What's the Best Example of Prosecco?
I would recommend any of the wines from Adami and Bisol, particularly Adami's "Vigneto Giardino" Rive di Colbertaldo and Bisol's "Crede," both from the Valdobbiadene zone. Mionetto is also a reliable producer, whose Prosecco Treviso DOC recently surprised me for punching well above its weight class. Silvano Follador is often considered the gold standard for Prosecco, but their wines are in short supply and I have yet to try them.
For something different (and magnificently complex) look for Casa Belfi's Colfondo Frizzante Prosecco.
---
Franciacorta
What is Franciacorta?
Often considered the pinnacle of Italian sparkling wine, the Franciacorta DOCG is a small appellation located south of Lake Iseo in Lombardy, at the foot of the Alps outside Bergamo and Milan. Here, Pinot Nero (same thing as Pinot Noir) and Chardonnay rule, but Pinot Bianco is allowed in the final blend as well.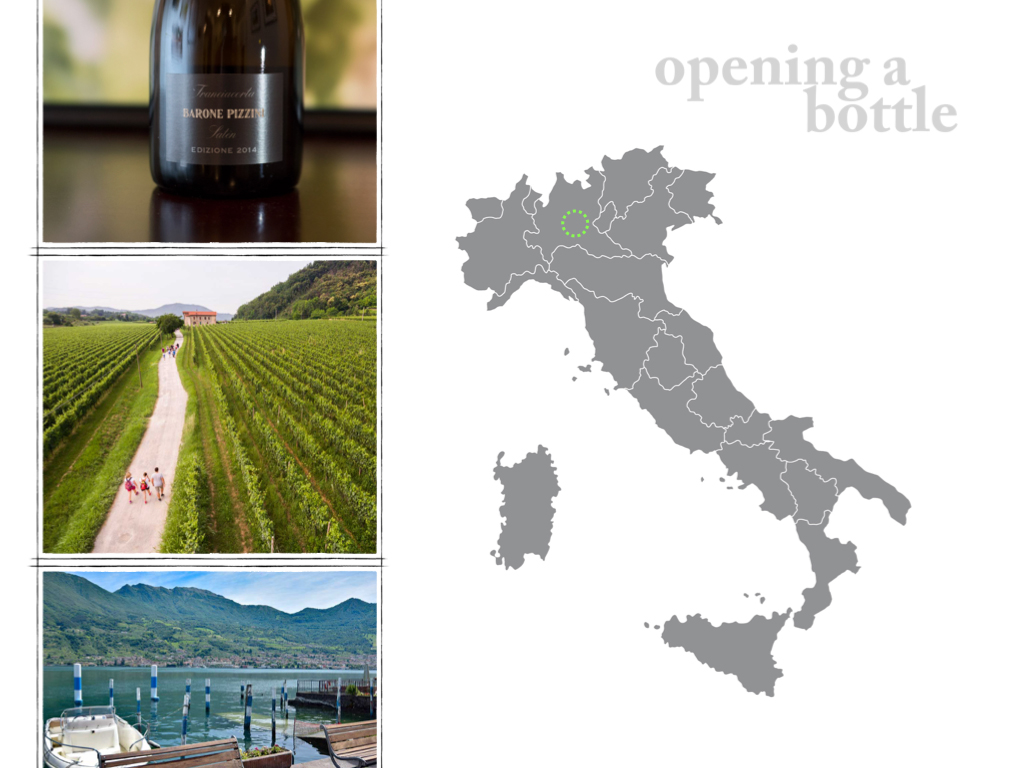 The method of secondary fermentation is known as metodo classico, whereby it occurs in the bottle, just as in Champagne. The length of time in which this critical step occurs has a significant influence on the final wine's taste. That's because as the yeast cells die off in the bottle, they form what is known as lees. Longer lees aging brings about more complexity and a richer texture, and because of this Franciacorta has aimed high. No other appellation in Europe requires longer lees aging for non-vintage wines than Franciacorta. This, paired with a high percentage of organic farming, has meant that Franciacorta has an excellent batting average. From my experience, nearly every wine I have sampled from this zone has been memorable in its own way, and given its average price per bottle in the United States (around $27) versus that of Champagne (roughly $44), it is an exceptional value — if you can find one.
One other thing to look for: Franciacorta's Satèn category. This is a Brut-style sparkling wine with a lower atmospheric pressure, so its bubbles and texture are silkier and more lavish. I am a sucker for Satèn.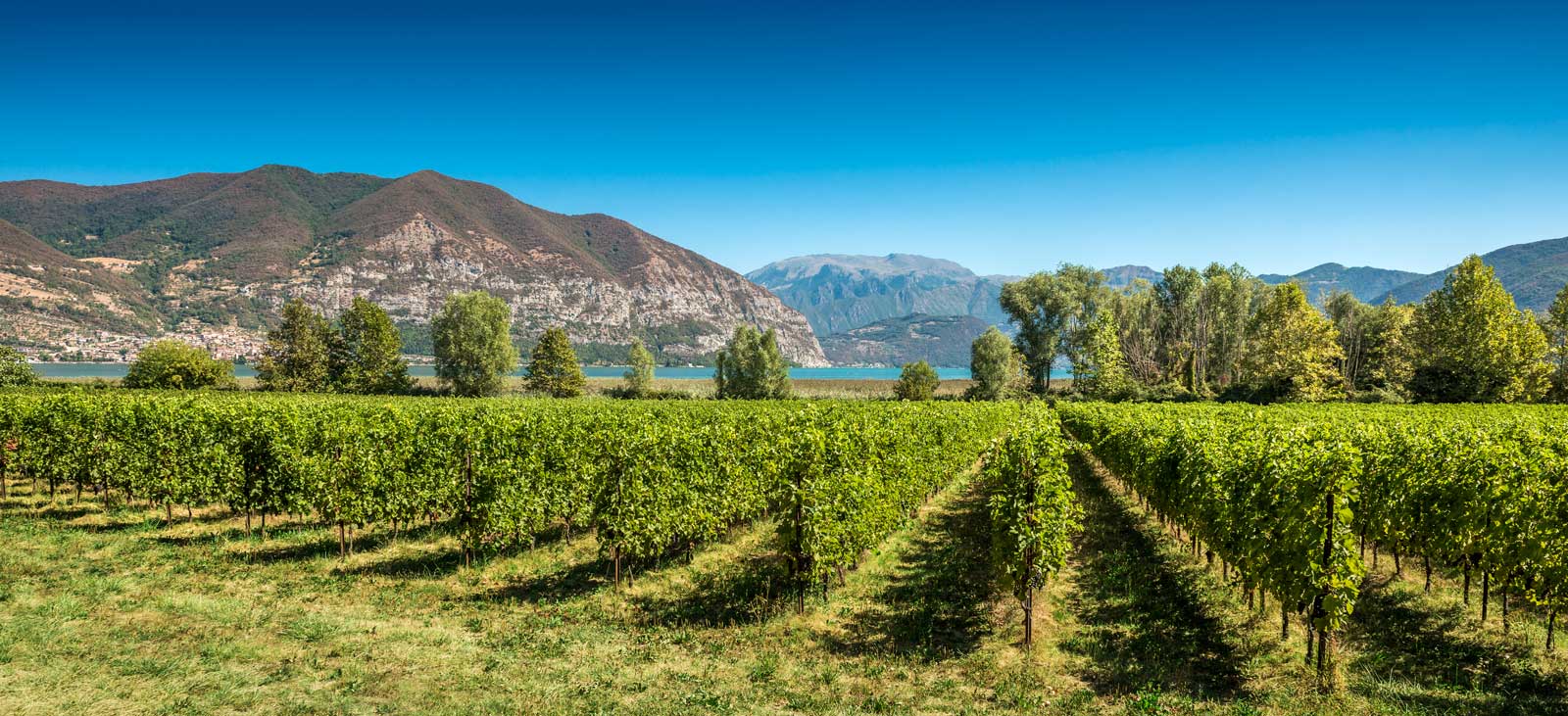 What Does Franciacorta Taste Like?
It is hard to describe Franciacorta without comparing it to Champagne, so I won't even try. The main difference has to do with climate, which is warmer in Franciacorta. This yields a wine that is typically a bit richer than Champagne, although that blanket assessment has a few holes given the wonderful diversity of Champagne. Nonetheless, look for fruit tones reminiscent of golden apples, ripe pears and crisp peach, as well as luxurious secondary tones recalling baked bread, hazelnuts or almonds. If you are going to be drinking Franciacorta, make sure you serve it in a white wine or tulip-shaped glass so you can enjoy those aromas. Franciacorta from a flute is like watching a film on fast-forward. You'll miss much of the plot.
Franciacorta's Biggest Pro
Quality and consistency. Franciacorta lives up to its reputation, simultaneously offering good vibes and deep, hedonistic pleasure.
Franciacorta's Biggest Con
Availability. This is a fairly small zone, so its not like examples abound on the U.S. market. You may have to do a little bit of hunting.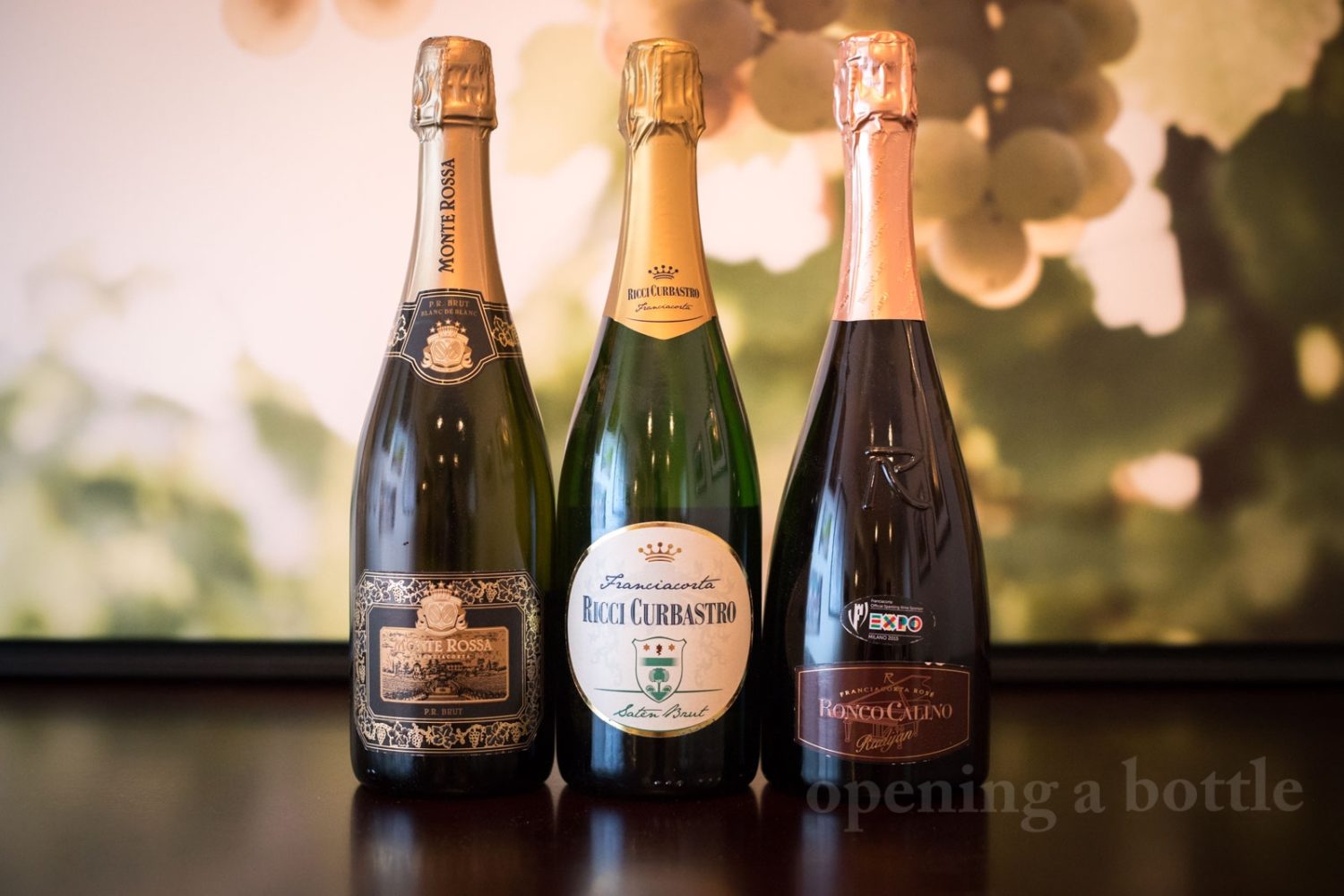 What's the Best Example of Franciacorta?
Again, there are so many great wineries from this region — and the consistency is quite high — that if you find a bottle from Franciacorta, just go for it. That said, Bellavista and Ca' del Bosco are two of the most widely available producers, both offering a high standard of consistency. But I prefer Barone Pizzini and Ricci Curbastro (both of whom have excellent Satèn examples), as well as Ronca Calino.
---
Trentodoc
What is Trentodoc?
One of Italy's most underrated appellations, the Trento DOC (or Trentodoc as it is marketed) can be found surrounding the alpine city of Trento, where metodo classico sparkling wines are given an enhanced crispness thanks to the cold mountain air that rushes down over the vineyards at night. The wines are once again made from predominantly Chardonnay and Pinot Nero (it's a classic formula that works), and while the requirements for lees aging are not as stringent as Franciacorta, many producers voluntarily extend their aging to the benefit of their wines. From my experience, the quality of the wines is also not as uniformly consistent as Franciacorta (there are a few large co-ops in the area who make forgettable examples), but the highlights can be truly invigorating.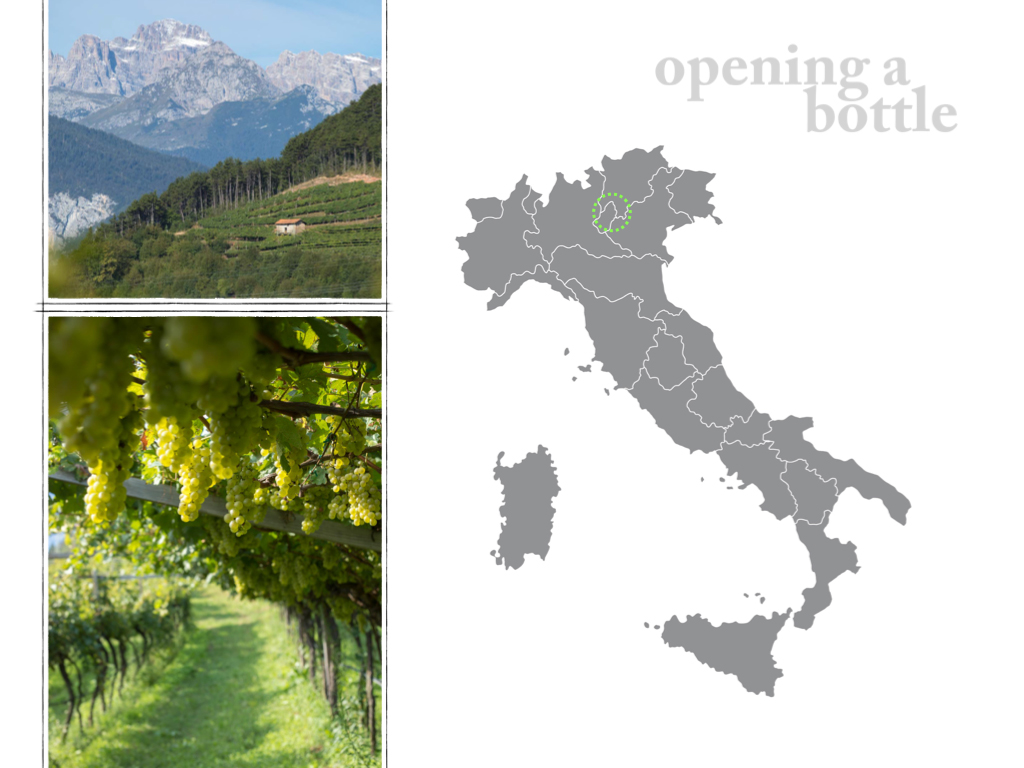 What Does Trentodoc Taste Like?
Think of Champagne but with a significant amount of crispness, thanks in part to the alpine terroir. The tenor of the fruit notes, especially the blanc de blanc category, leans toward green apple skin, almonds and white flowers. It is a zippy sparkling wine, but with ample gravitas.
Trentodoc's Biggest Pro
Once again, quality-to-price is a major selling point. The standard bearer is the Ferrari Trentodoc Brut, which at roughly $20 is quite possibly the best-priced traditional method sparkling wine in the world.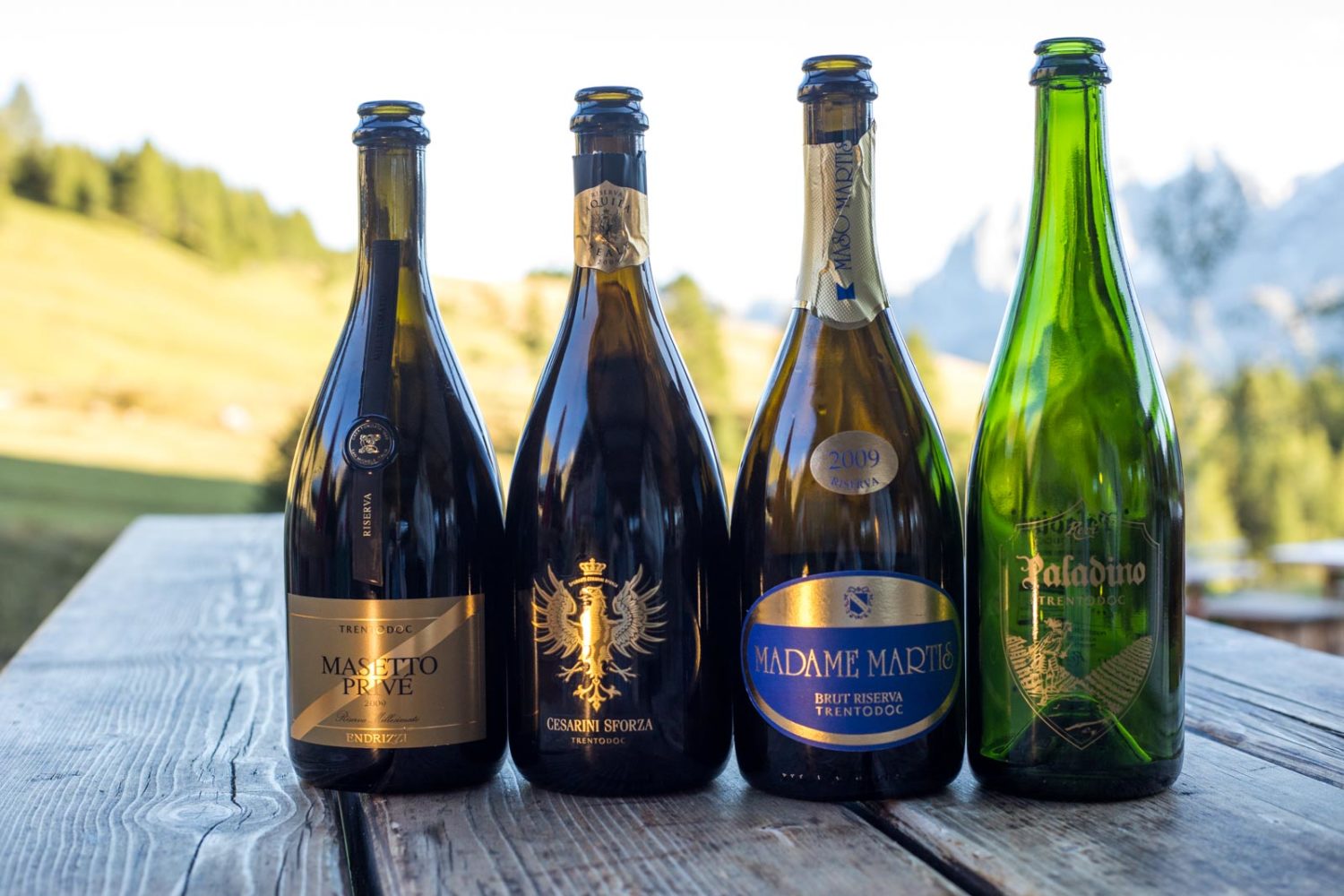 Trentodoc's Biggest Con
Availability beyond the three largest producers — Ferrari, Altemasi and Rotari, of which, Ferrari is the noteworthy one. The boutique wineries (see next entry) are so fun to explore, but their quantities are limited.
What's the Best Example of Trentodoc?
My top four wineries of Trentodoc are so close in the footrace, that selecting one for the Essential Winemakers of Italy list was a tough call. Ultimately, I listed Cesarini Sforza because of the ridiculously long lees aging on a few of their riserva wines, and because the vineyards where they source from in the Val di Cembra are a spectacular sight. But Maso Martis, Reví and Endrizzi are all right up their at the top as well, offering exceptionally detailed and satisfying wines with a brisk, alpine timber that I find invigorating.
---
Alta Langa
What is Alta Langa?
Forget Tuscany for a moment: Italy's best wines consistently come from Piedmont, a massive region located in the northwest corner of the country. Here you will find the undisputed king of all Italian red wines, Barolo, as well its little brother Barbaresco, and fringe-favorite cousins Gattinara, Ghemme, Bramaterra and Carema, to name a few. Barbera d'Asti and Barbera d'Alba also come from here, as well as the pop-star duo of Moscato d'Asti and Asti Spumante. OK, those last two might not be as richly rewarding as the fine red wines of Piedmont, or the dramatic ascension of Timorasso into the upper echelons of the white wine world, but the point is just the same: Piedmont is stacked for wine lovers.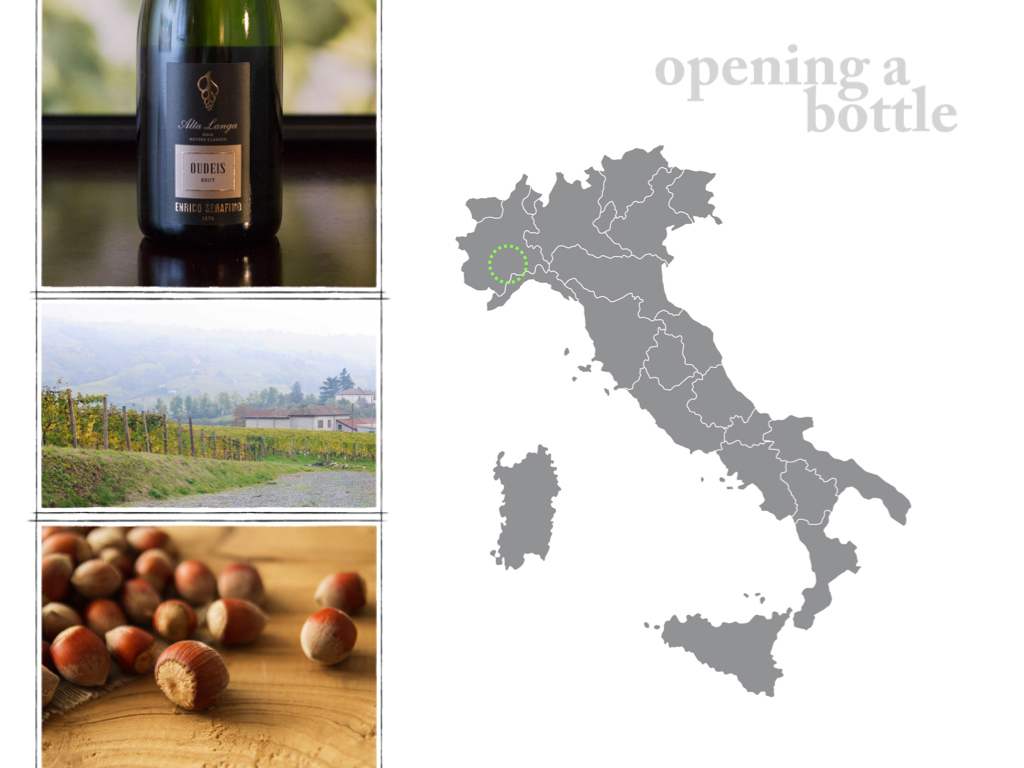 Which makes it a bit surprising that the metodo classico wines of the Alta Langa DOCG are not a bigger deal. Coming mostly from the higher elevation of the Langhe Hills (the same hills that nurture Nebbiolo into Barolo and Barbaresco), these wines benefit from the high standards of excellence achieved elsewhere in Piedmont. Pinot Nero plantings outweigh those of Chardonnay, and nonvintage wines must spend 30 months on the lees.
What Does Alta Langa Taste Like?
Alta Langa is still searching for its identity a bit, and while I have fumbled to figure out what that is in my tastings of these wines, I do know this: it is a great alternative to costly Champagne. Tones often suggest golden apples, pearskin, and very light citrus, with those lees-like notes any Champagne lover would crave.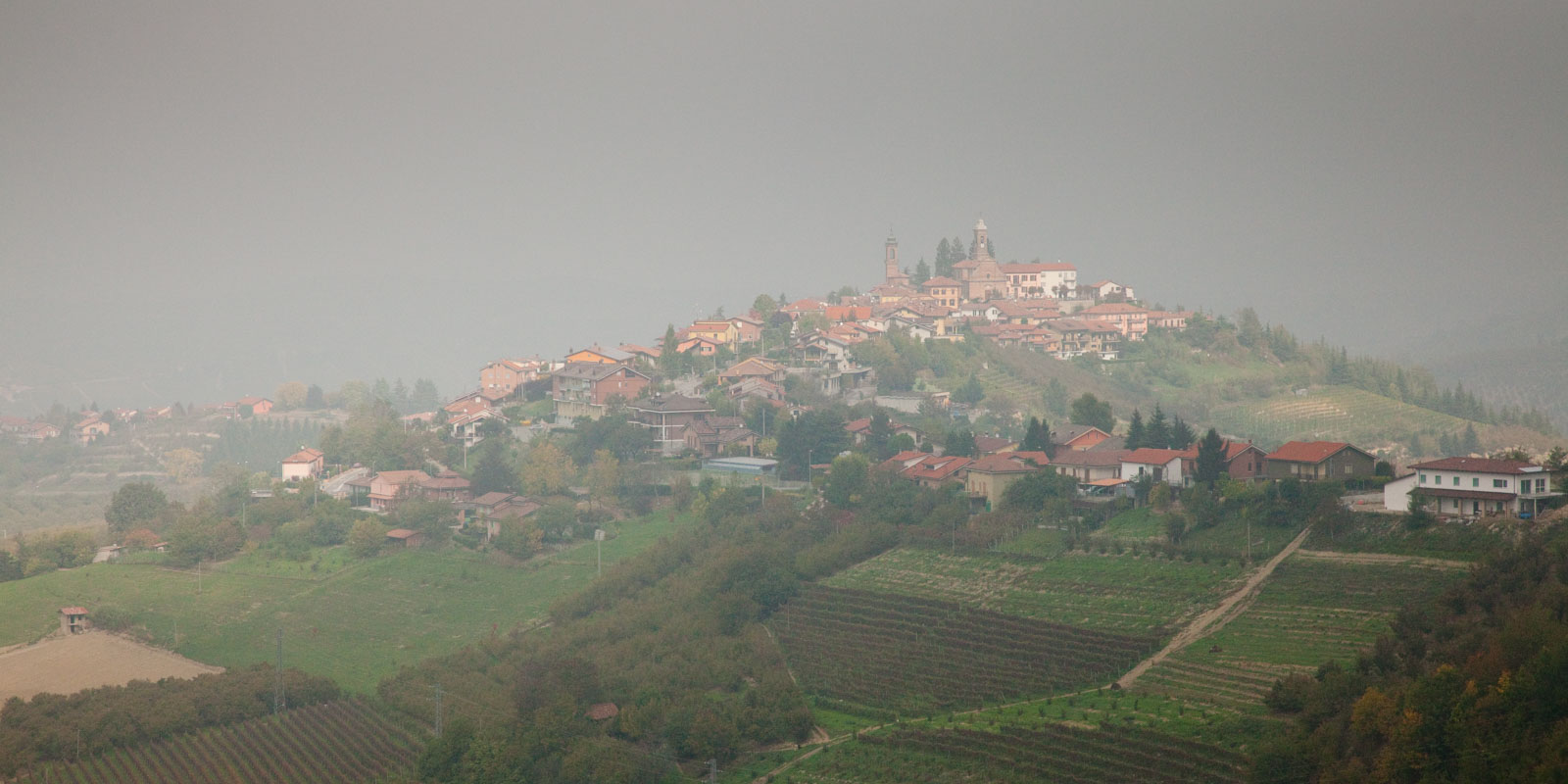 Alta Langa's Biggest Pro
Potential. Given the institutional knowledge of Piedmont's wine industry, as well as the expansion of vineyards deeper into the Langhe Hills (a good and bad thing), one can assume that the Alta Langa is on the up and up.
Alta Langa's Biggest Con
Once again, availability, but also a lack of "somewhereness." Between Franciacorta's richness and Trentodoc's briskness, lies Alta Langa, but what that identity is … well, that's an open question. It's a bit of a "Goldilocks wine" in that regard: they're just right, but as Andrew Bird says "history forgets the moderates." Tasted blind, I'd probably pin a glass of Alta Langa as Champagne … or a Crémant from Burgundy or Alsace, or a sparkling wine from Sonoma or New Zealand. In time, Alta Langa may forge a clear identity, but I just haven't noticed it yet.
What's the Best Example of Alta Langa?
Fontanafredda and Enrico Serafino are two of the better-known producers, and of the two, I am more familiar with those of Enrico Serafino. Their "Oudeis" is a lavish and luxuriant example of what this zone can achieve. Keep an eye on this appellation in the coming years, as Piedmont continues to aspire to be Italy's top dog, and as a result, it is flush with new investment.
Off the Beaten Path
Of course, sparkling wine in Italy is not just limited to these appellations, nor to the DOC/DOCG appellation system as a whole. For more metodo classico options, look to another Lombardy DOCG in Oltrepò Pavese. Here, Pinot Nero is the chief grape, required in 70% of the final blend. Because of this, the region has become a bit of a rosé specialist in the sparkling wine sector, but in the United States market, they're even harder to find than Franciacorta and Alta Langa.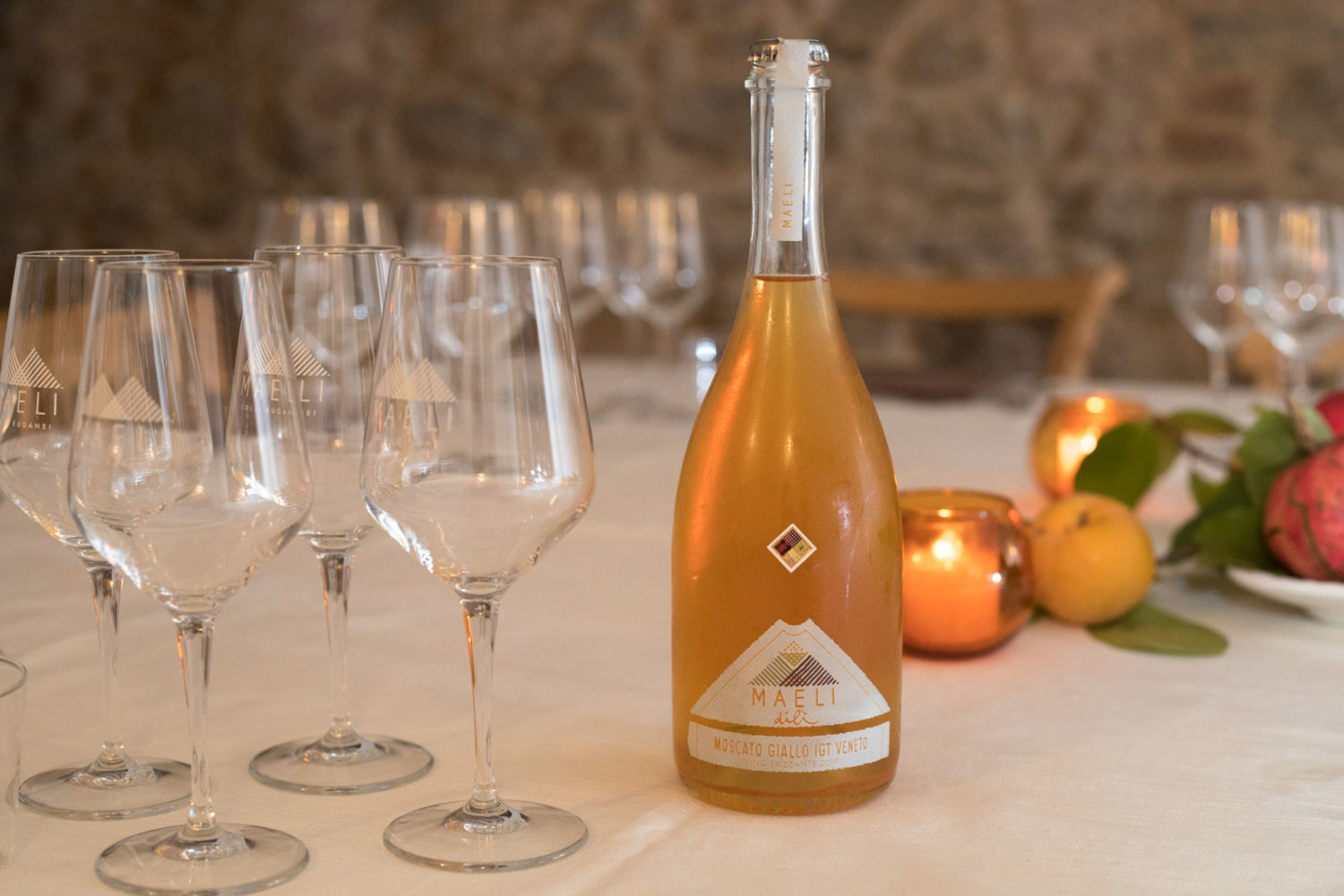 Fans of sweeter wines can always turn to Moscato d'Asti DOCG (or Asti Spumante DOCG for its drier, fully sparkling counterpart) in Piedmont. Another intriguing series of wines involving Moscato come from Colli Euganei in Veneto, where Moscato Giallo offers a more herbal tone as well as a zingy acidity due to volcanic soils. I recently did a profile on one noteworthy Moscato Giallo producer in Colli Euganei — Maeli — who is certainly worth checking out.
Just south of Veneto in Marche, some sparkling examples of Verdicchio are beginning to turn heads, as are rare examples of sparkling Fiano from Campania. On Sicily's Mount Etna, a burgeoning category of metodo classico sparkling wines (Etna Spumate DOC) made from Nerello Mascalese is yet another trend to keep an eye on.
Lastly, the various fizzy (frizzante) wines of Lambrusco from Emilia-Romagna are a featherweight, grapey gulp of fun that perfectly counters the area's rich and hearty cuisine.