3
min read
I recently hosted a class on the wines of Abruzzo here on Opening a Bottle with my friend Bob Paulinski MW. Bob and I agreed that Abruzzo has a very bright future because of its use of polyculture, its widespread adoption of organic and biodynamic practices, and a general youth movement from north to south. I got on the horn for Cerasuolo d'Abruzzo, the region's wild and diverse rosato wines, and Bob touted Pecorino. In fact, on the bus in Abruzzo during our trip together in June, Bob wouldn't shut up about Pecorino.
But he is right. Of course he is! He is an MW. After revisiting the Lunaria Orsogna "Civitas" Pecorino during our class, I was not only reminded of how good the wines from this grape can be, I was genuinely pondering whether it is Italy's best indigenous white wine grape.
Now, I'm not ready to proclaim such a thing full stop. After all, Fiano, Carricante, Verdicchio and Timorasso have something to say about that. But this was the first time I thought about Pecorino as belonging in the same conversation. And why not? It is certainly more lively and pronounced of these five varieties, coming at you in forthcoming waves of aromatic brightness. But its textural properties, its complexity and depth, all speak to a wine that would stay sound for years after vintage. Just the fact that is doesn't need age like Fiano and Carricante sometimes do, nor does it need specific handling in the cellar to yield top results (looking at you Verdicchio and Timorasso), speaks to Pecorino's seriousness as a white wine grape.
So what's the deal with Pecorino? In short, it was nearly lost just a few decades ago — confined to the highest slopes of Abruzzo and Marche, where shepherds would snack on the clusters while tending their flock (ergo, the name). Because of this nascent renaissance, you're not likely to find many old vines of Pecorino, despite it being an ancient variety. Best of all, it is a wine that taste like $100, but sells for way, way less (with the exception of Emidio Pepe, that is).
I bought this wine for a mere $18, but its was far more lively and expressive than anything else I've had at that price point in a long time. Be on the look out for Pecorino, especially from Lunaria Orsogna but also producers like Francesco Cirelli, Torre de Beati and Tiberio.
2021 Lunaria Orsogna "Civitas" Pecorino Terre di Chieti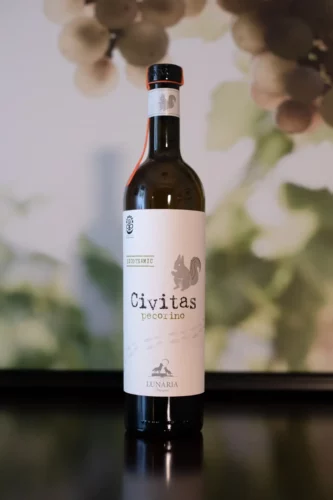 Terre di Chieti IGT (Abruzzo )
Grapes: Pecorino (100%)
Alcohol: 13%
Opinion: ★★★★ 3/4 (out of five)
Food-friendliness: Impeccable
Value: Exceptional
A beginner might like … the explosive aromas. Sometimes you want a wine to be lavish without being ostentatious, and that's what the best Pecorino provide. For me, it reminded me of lime peel, pears and a riot of flowers.
A wine obsessive might like … the silky nature of the acidity. Italian white wines are often so acid-driven that you might be tempted to start writing excuses for your next dentist visit. While this Pecorino certainly has tremendous momentum, it never feels blistering or abrasive. Just spry and joyous like a hummingbird at the feeder.
Note: This wine was purchased with our editorial budget thanks to subscribers such as yourself. Thank you.