4
min read
Every now and then, I don't mind sharing with you what a ridiculous nerd I am. Perhaps it is a deflection technique to the pomposity of other wine critics and writers. Or maybe I am just a goofball who wants the world to know I am able to laugh at myself. But at a recent tasting of Sancerre, I found myself "swishing" a white wine and timing how long it took to strip away all of its flavor and, essentially, transform it into water on the palate. This Sancerre seemed to take forever, and I eventually stopped when the countenance of my gleeful dentist appeared in my mind's eye. (He had a drill. It was an unpleasant sight).
That wine was Domaine Vacheron's 2019 Sancerre, the "low-wrung" wine in their portfolio. Regarded by many as one of the top wineries in the world for Sauvignon Blanc, the Vacheron family are the Saints of Silex, a unique flint-based soil that often lends their Sancerre an edgy quality. Here, with their entry-level Sancerre, I was encountering a blend of Sauvignon Blanc from silex, limestone and marl. It was more polished and fruity than I expected, but the hallmark intensity that punctuates the domaine's reputation was certainly there.
So why was I doing this silly exercise (away from the puzzling eyes of my wife, I might add)? Well, it would stand to reason that an intense wine such as this is packed with aromatic and textural compounds, and the act of swishing agitates them. Furthermore, the interaction with saliva releases these compounds and is a fundamental aspect of taste. By swishing, we fire up that process. But it is also a stall tactic. The rate at which these aromas and textures are released usually happens at a faster rate than my brain can release adjectives to describe them. [Insert mental image of said dentist, cracking his knuckles].
The more flavors and textural complexity — so it would seem to this inquiring nerd — the longer it will take for the wine to break down into a watery state.
Now, another way to measure the intensity of such a wine is to simply swallow it and pay attention to the finish, those lingering wisps of sensation that float and fade on the palate. What normal people call "aftertaste." This is a much cooler way to evaluate a wine. You can sit there and ruminate like a philosopher, and no one will know what you are thinking about. Socially, it is much preferred to the Treat Wine Like Mouthwash approach.
All this to say: Vacheron's Sancerre seemed particularly inexhaustible. The tones suggested by this Sauvignon Blanc were neither grapefruit nor grass, but rather white peach, candied papaya, sea spray, honeysuckle and a distinct aroma akin to tarragon. But it was the textural qualities I found most appealing: rounded but muscular, strong yet not chiseled. It was 750 mL of comfort.
So why does "inexhaustibility" matter to me in a white wine — at least, to the extent that I would swish it into oblivion and risk public embarrassment? Well, like Cabernet Sauvignon or Chardonnay, Sauvignon Blanc is so familiar it has become commonplace to our palates. That familiarity may help it sell well, but it often ends up being a forgettable wine, if not downright boring. But Vacheron's Sancerre — as well as this wine from Gérard Boulay — are in another orbit. Their complexity offers another side of the story, and by lingering with the wine, I sought to avoid the Cliffnotes version. Tell me all you know about this grape and this place. I'm listening.
Now if you'll excuse me, I'm overdue for a dentist appointment.
2019 Domaine Vacheron Sancerre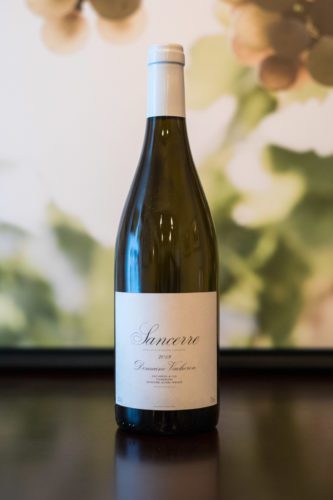 Sancerre AOC (Loire River Valley)  
Grapes: Sauvignon Blanc (100%)
Alcohol: 14%
Opinion: ★★★★ 3/4 (out of five)
Food-friendliness: Impeccable
Value: A little pricey
Learn more about our wine icons
A beginner might like … how this wine forms a compelling counterpoint to our "standard" perception of Sauvignon Blanc. You won't find the gooseberry, grapefruit and grassy tones most indicative of New Zealand's version, but rather a ripe-stone fruit and delicately herbal profile. Did I say it was inexhaustible?
A wine obsessive might like … teasing out clues from the soil of Sancerre. Vacheron has cultivated a reputation for terroir-centric single-vineyard bottlings of Sancerre, but here we have their go at an appellation-wide blend that folds in the energy of silex, the delicacy of limestone and the power of marl. It's all there for us to tease apart.
Note: This wine was purchased for editorial purposes thanks to subscribers like you.