Christian Gros and Julien Gros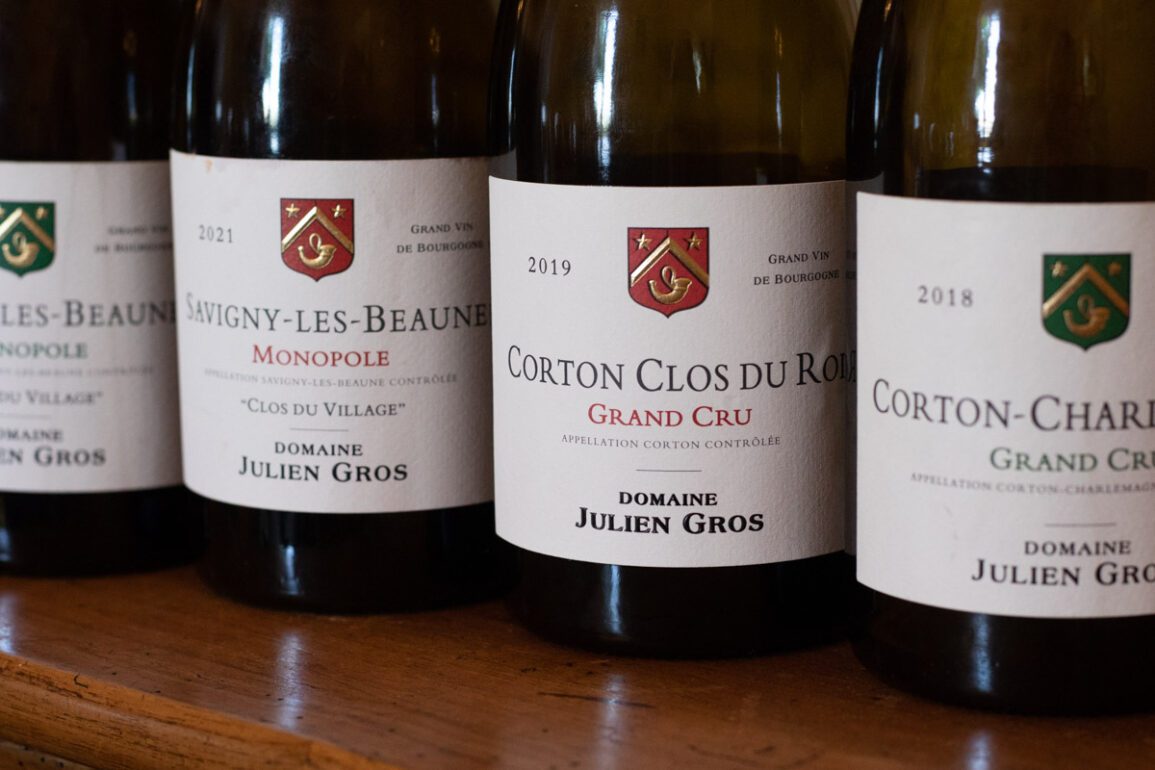 Why These Domaines Are Essential
I won't sugarcoat the challenge presented to you in finding the wines of Domaine Christian Gros & Fils and Domaine Julien Gros — two family wineries in the Côte de Nuits overseen by the same talented young winemaker. Quantities are exceedingly scarce (between 10,000-15,000/bottles per year per domaine), and as of 2023, only about 60% of those wines hit the export market. But there is a potential that more of these wines will be made under these two labels when négociant contracts expire in the coming years. Normally, I don't list wineries with such a small footprint, but because of this bright future — and because Julien Gros makes such exquisite, thrilling, terroir-centric wine — I am including them. For now, it might be best to arrange an appointment in-person and buy their wines that way.
The winery is the result of two very important winemaking families in Bourgogne coming together in marriage. On one side, André Gros. On the other, Renée Faiverly. Together, their holdings were passed down eventually to Christian Gros, but they were in an overgrown state and needed replanting. Until very recently, he sold much of the fruit off to négociants. His sons — Julien, the winemaker, and Nicolas, the vineyard manager — have begun to expand estate bottling under their father's name. In 2016, Julien created his own domaine with separate plots from the family, including holdings in the Grand Cru Corton and Grand Cru Corton-Charlemagne.
The winemaking style here is very straightforward. All wines are aged for 12 to 14 months, with reds undergoing élevage in 228 liter-barrels, and whites in 500-liter barrels. Selection of bunches is very meticulous, and while they are not organic, they do not use synthetic herbicides.
Premeaux-Prissey, Burgundy
Grapes: Pinot Noir, Chardonnay
Appellations/Cru: Nuits Saint Georges AOC, Savigny-les-Beaune AOC, Grand Cru Corton AOC, Grand Cru Corton Charlemagne AOC
American Importer: Planet Wine
Originally listed: July 2023
Wines to Seek Out: Domaine Christian Gros & Fils
Domaine Christian Gros & Fils is the work of brothers Julien and Nicolas, working with under their father's name with vines inherited from the Gros side of the family.
Domain Christian Gros & Fils Bourgogne Aligoté
This sapid Aligoté is a bit richer than most, but also more subdued on the nose. A significant portion of the wine spends 12-14 months in barrel, which lends a necessary roundness to the texture of their Aligoté, which counters the grape's naturally high acidity.
Domain Christian Gros & Fils Ladoix 1er Cru Les Gréchons Blanc
The largest parcel the family owns is a Premier Cru in Ladoix, high up against the forest in a nook tucked behind the great Corton hill. This wine speaks to two things simultaneously: the ample morning sun that the vineyard gets, and the cooling effect of the nearby forest which tempers everything in the late afternoon. That shows up in the honeyed fruit at the front, and in the crisp and pitch-perfect acidity that keeps it from getting stuck on the palate. During my last tasting, I detected notes akin to ginger, juniper berry and roasted almond in complement to the apple- and white flower-dominant aromas.
Domain Christian Gros & Fils Bourgogne Rouge
Made entirely from Nuits-Saint-George fruit (at least for now), the entry-level Bourgogne Rouge is a superb "every night" Pinot Noir. It is quenching and fresh, with popping berry fruit, upright tertiary tones recalling spice and roasted nuts, and beautiful juiciness through the middle.
Domain Christian Gros & Fils "Les Vignottes" Côte de Nuits-Villages
This single-vineyard parcel of Pinot Noir in Premeaux-Prissey lies directly behind Jean-Jacques Confuron's domaine, a mere 10-minute walk away from the Gros family's operation. The wine is a celebration of forthcoming fruit, with waves recalling raspberry and black cherries over and over again on the palate, and a lovely Earl Gray signature on the edges to lend structure.
Domain Christian Gros & Fils "Tribourg" Nuits-Saint-Georges
Just down the road and tucked into a corner of Nuits-Saint-Georges is the "Tribourg" climat, and what a difference in terroir. The same 12-14 months in oak is rendered in the winery, but the result is somehow smokier, darker and more sinewy than "Les Vignottes." Dried fruits and clear-as-day tones of hazelnut emerge on the nose. I called Tribourg a "scrappy little wine" in my notes — more a descriptor of its personality and how it insists you know what its made of, than anything relating to disorder or volatility. I love that kind of personality, but I would recommend letting this wine age a year or two at minimum.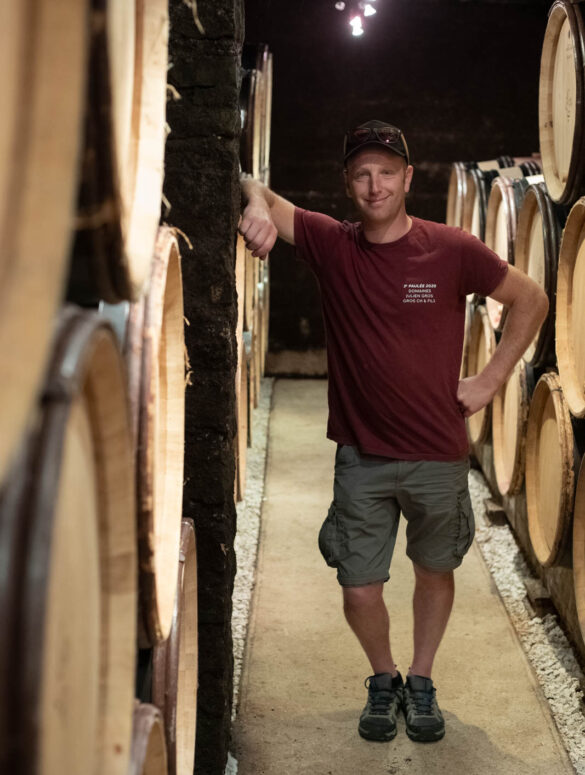 Wines to Seek Out: Domaine Julien Gros
Before returning to the family business, Julien Gros worked as the estate manager for Domaine Paul Misset in nearby Nuits-Saint-Georges and was then recruited as winemaker by the Perrin family for their iconic Châteauneuf-du-Pape estate Château de Beaucastel. ("They needed someone from Bourgogne with the right experience managing barrels," he said, speaking to the light touch that Burgundian winemakers are famous for). Now on his own, and making wines as he sees fit with his family's plots, we can see why he was so intensely sought after.
All four of his wines are lights-out amazing.
Domaine Julien Gros "Clos du Village Monopole" Savigny-les-Beaune Blanc
Most of Savigny-les-Beaune's vines are devoted to Pinot Noir, so this monopole of Chardonnay from the of-the-moment village is really something special on paper. On the nose and on the palate, it more than delivers. It's featherweight aromas of ripe apple, grapefruit zest, herbs, flowers and a touch of roasted almond are supremely elegant, which carries through to the palate and finish. This is a wine that whispers. It's best if we listen.
Domaine Julien Gros Grand Cru Corton-Charlemagne
If the "Clos du Village Monopole" whispers, the Grand Cru Corton-Charlemagne has pulled up with a speaker stack and is ready to get things started. With its heady aromas of rich golden pear, coconut, crême brulée and violets, there is no mistaking the variety and its highly regarded terroir. Evocative, a little bit unusual, but 100% correct in its delivery, this is a wine for drinkers who prefer a little muscle to their whites.
Domaine Julien Gros "Clos du Village Monopole" Savigny-les-Beaune Rouge
The flipside of the Savigny-les-Beaune coin is this Pinot Noir from the same monopole vineyard as the blanc. It registers with high-toned red fruits (think pomegranate meets raspberry), significant earthy aromas and a bright radiance that shows how complexity can also come in textural forms. I especially loved the long mineral finish and how it registered like an invitation to keep going.
Domaine Julien Gros "Clos du Roi" Grand Cru Corton
This powerhouse wine from a small plot on the Grand Cru Corton is intensely savory and floral, with a wild animal character obscuring the red fruits (like raspberry and ripe plum) underneath. But with air and time, what emerges is a glorious example of Pinot Noir in all contradictory beauty: silky yet momentous, ripe yet umami. Take your time with this one.