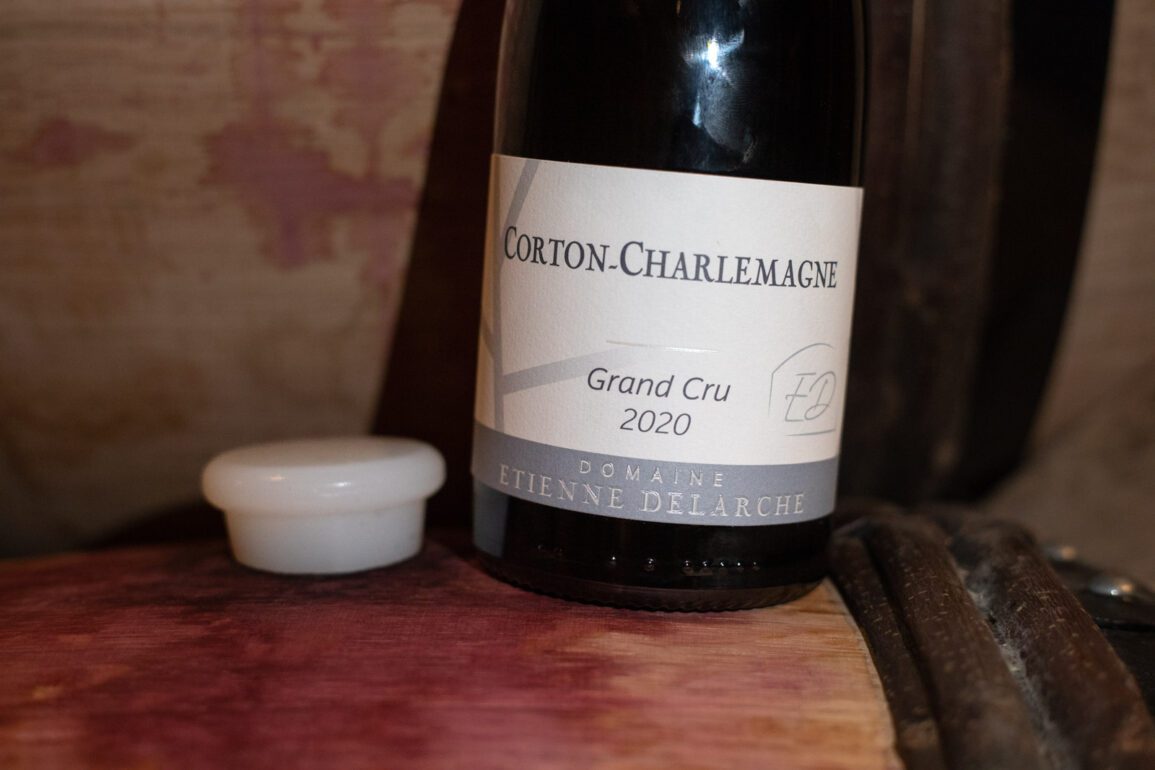 Why Etienne Delarche is Essential
Soft-spoken yet clearly in command of his winery, Etienne Delarche is a Burgundian vigneron through and through. In his dimly lit but wholly atmospheric cellar, he pulled wines from the barrel with little description, as if each pour said "let the wine do the talking." But Delarche is also quick to reveal his radiant smile, and in his supple and complex wines — particularly the whites — you come to see the man and his wines as one in the same in terms of character.
The terroir that Delarche is working with is Pernand-Vergelesses and the great Corton hill, which squeezes the village on one side like a shrugged shoulder. For years, this village has been largely overlooked (at least in comparison to its Cotes de Beaune peers), but with its persistent cool air currents, that perception has changed. Delarche knows how to capture this briskness and translate it into elegant wine with a lovely tension through their middle, and profuse details that keep each wine interesting from first pour to last drop.
Given the extremely high quality of Etienne Delarche's wines, and the exceedingly low price they go for ($45-$60 for Premier Cru wines), this estate is one of the best value producers in all of Bourgogne.
Pernand-Vergelesses, Burgundy
Grapes: Pinot Noir, Chardonnay
Appellations/Cru: Pernand-Vergelesses AOC, Grand Cru Corton AOC, Grand Cru Corton-Charlemagne AOC
American Importer: North Berkeley Imports
Originally listed: August 2023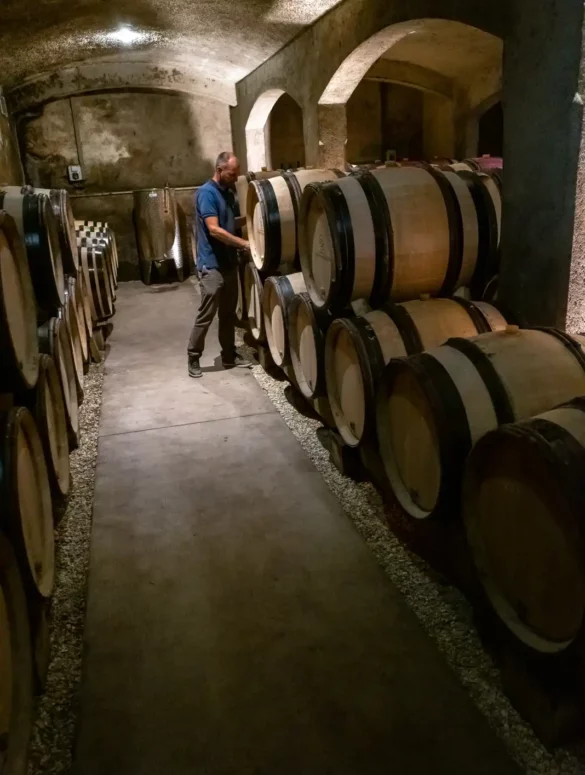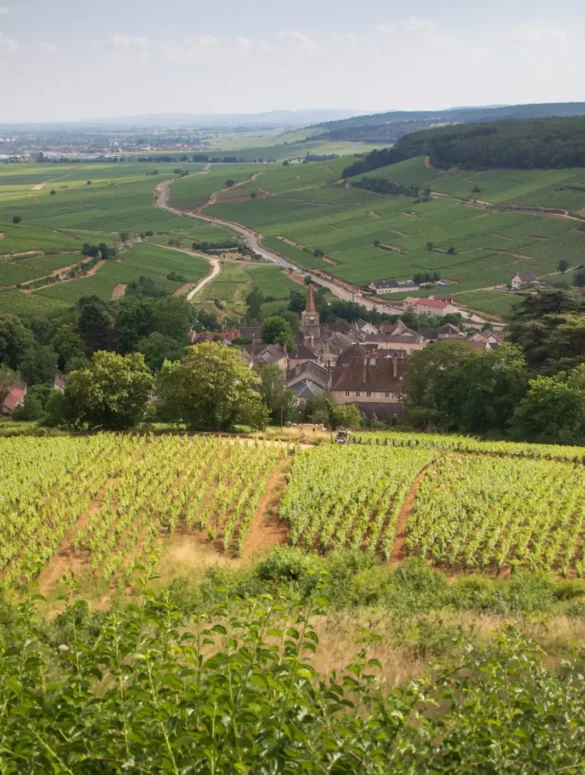 Wines to Seek Out
Delarche uses indigenous yeast for all of his wines, which are unfined and unfiltered as well. Oak use is gentle, with no wine seeing more than 30% new wood. All Pinot Noir are destemmed.
Domaine Etienne Delarche "Les Combottes" Pernand-Vergelesses Blanc
Delarche's entry-level Chardonnay is a wonderful every-night-of-the-week wine that is bright and citric, yet creamy, floral and elegant through to the finish. With just one year of age, the wine settles into stunning form with grapefruit-meets-brûlée tone that is surprisingly refreshing. The vineyard for this wine is on the west-facing slope north of the village, which is wedged between forest parcels in the middle of a combe.
Domaine Etienne Delarche 1er Cru Sous Frétille Pernand-Vergelesses Blanc
My favorite wine in Etienne Delarche's portfolio is this gorgeous Chardonnay made from 45-year-old vines growing in the Sous Frétille Premier Cru vineyard just above Pernand-Vergelesses (see photo above). This is another example of an aesthetically beautiful vineyard yielding a beautiful wine. While the vines are south-facing, the combe (or side valley) funnels cool air constantly at night, impacting this vineyard more than Corton-Charlemagne. As a result, the elegance is unmistakable. Delarche's Sous Frétille possesses remarkable clarity and focus, with a faintly honeyed aroma that drew me in, and a most-perfect kiss of oak on the finish.
Domaine Etienne Delarche Corton-Charlemagne Grand Cru
Like an electric guitar, the Corton Hill is inherently bold and brash. Yet in the hands of this quiet, soft-spoken winemaker, the Grand Cru Corton-Charlemagne yields something entirely fascinating and different. It carries the same aromatic hallmarks as Delarche's Sous Frétille, but is more coiled and hidden in its youth, requiring a few years of aging to come out of its shell. But the featherweight texture is worth more than the price of admission: this is illusionist territory.
Domaine Etienne Delarche "Les Boutieres" Pernand-Vergelesses Rouge
On the road to Savigny-les-Beaune from Pernand-Vergelesses, Les Boutieres is one of those Burgundian oddities: a village lieu-dit surrounded by Premier Cru vineyards. How this vineyard missed that promotion is down to the slightest detail: a few degrees flatter than Vergelesses up the hill, and without the heavy hitters going to bat for Les Guérets and Les Vercots promotion across the road in Aloxe-Corton. C'e la vie.
What Les Boutieres has going for it in this wine is Delarche's light touch, which yields a Pinot Noir that lilts across the palate with generous fruit, noticeable spice and a wonderful herbal character.
Domaine Etienne Delarche 1er Cru Les Vergelesses Pernand-Vergelesses Rouge
Delarche's two Premier Cru Pinot Noir wines are nothing short of spectacular: the kinds of wines that you'd be grateful to have at home, given their small supply.
Les Vergelesses is a Premier Cru situated immediately uphill of Les Boutieres, a near miniscule detail that in Bourgogne looms large in the glass, for it stands apart with its added dimensions of flavor, its intense aromas and firmer tannins. Coming to the fore is a black tea-like bitterness that complements the succulent berry tones perfectly. A top-tier Pinot.
Domaine Etienne Delarche 1er Cru Iles de Vergelesses Pernand-Vergelesses Rouge
Meanwhile, Iles des Vergelesses is a few meters higher, and so snug against the vineyards of Savigny-les-Beaune that you're left wondering how much gray area there is between the two villages. I found this wine to be even more light-footed with its acidity, and fleshier too. Whereas bitter black tea notes struck me on Les Vergelesses, here it is earthy tones akin to mushroom, as well as loads of flowers.
Domaine Etienne Delarche "Les Renardes" Grand Cru Corton
A far more serious and structured rendition of Pinot Noir comes from "Les Renardes," a plot of 50-year-old vines in the Grand Cru Corton. Rich with semi-stewed fruit and undertones suggesting resinous herbs, this bold and persistent wine has firm tannins but a silky texture. "A lot of contradictions in this wine" I wrote in my notes. I suggest letting the vintage pass for 10 years at least before opening.