2
min read
At it's best, Riesling is an elusive set of juxtapositions. Sweet in sensation yet clean on the finish; a goblet of sunshine in liquid form, yet simultaneously redolent of earthly characteristics like honeycomb or stone.
As compelling and captivating as Riesling can be, I hadn't opened one all year. My interests had just led me elsewhere. (So many wines, so little time).
But last week, German Riesling made a triumphant return to my life — and that is honestly how it felt — with a bottle of Dr. von Bassermann-Jordan "Deidesheimer Paradiesgarten" Kabinett Riesling from the 2011 vintage. Hailing from the Pfalz wine region south of Frankfurt, the wine comes from the Paradise Garden vineyard in Deidesheim, a low, east-facing pitch of clay and sandstone that is crowned by forest. The resulting wine from this vineyard is refreshing and bright, complex and layered, yet humble enough to complement most any dish you throw at it. We went simple, and enjoyed it with a rotisserie chicken with avocado toast. It was a mild evening in the backyard — a context that couldn't be any more perfect for a sunny wine like this.
My local wine shop was carrying a few bottles from Dr. von Bassermann-Jordan, but the "Deidesheimer Paradiesgarten" doesn't appear to be an easy find online. (The bottling from Von Winning seems to be more prevalent). I'll head back and buy the other bottlings from this winemaker and keep you posted. It would be a shame to go several more months without another Riesling.
2011 Dr. von Bassermann-Jordan "Deidesheimer Paradiesgarten" Kabinett Riesling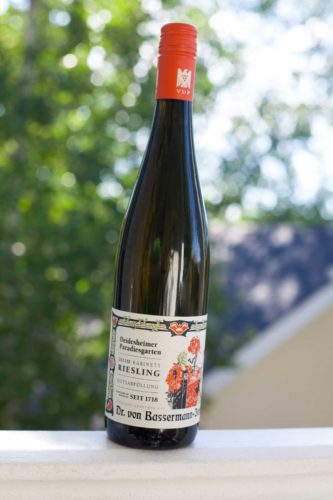 Pfalz, Germany
Grape: Riesling (100%)
Alcohol: 10.5%
Ratings: ★★★★ 3/4 (out of five)
Aromas, Flavors & Structure: ★★★★ 3/4
Food-friendliness: ★★★★★
Value: ★★★ 1/2
Tasting notes: An excellent, crowd-pleaser that ought to give anyone who doubts Riesling second thoughts. Vivid coloration, the wine practically glows. Aromas are classic Riesling, recalling sticky honeycomb, apple, overripe apricots and a hint of shaved ginger root. But on the palate, the sweetness is more sensation, less textural — there's residual sugar, but hardly enough to coat the palate after the finish. Like liquid sunshine with earthy edges. Sort of prickly in texture, faintly spicy, but not abrasive in anyway. On the finish, there is a taste of key lime.
Recommended for: Rotisserie chicken, avocado toast and corn on the cob was our simply, winning combination. An excellent picnic wine. While this wine would work in any season, drink it now while it's summer. It just suits the mood.