6
min read
So now that we've gone over a few guidelines for buying Thanksgiving wine, I may as well offer some recommendations. I think the best way to do this is to divide the day into three parts:
Act I: Noshing
Act II: The Main Event
Act III: Pot-Bellied Post-Mortem
I've made a few recommendations to fill each category, and by all means, if you see any of these wines at your wine shop or online, overbuy … you can always save unopened wines for Christmas.
---
Act I: Noshing
At our house, we usually nosh on nuts, cheeses and simple veggies around noon as we prepare the side dishes and — more importantly — hotbox the turkey fumes from the oven.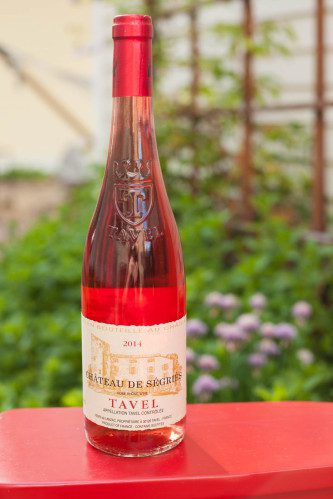 A variety of rosés are the perfect companion, particular those from Provence. I've made my feelings known before on the Tavel from Domaine de la Mordorée (★★★★ 1/2), which is still the finest rosé I've had, but Miraval Rosé from Jolie-Pitt & Perrin (★★★★) is outstanding as well and you are more likely to find it. Same goes for the Coteaux d'Aix-en-Provence rose from Commanderie de la Bargemone (★★★ 1/2).
But earlier this year, I sampled a wine that — in the heat of summer, mind you — got me thinking ahead to Turkey Day: Château de Ségriès Tavel (★★★★ 1/2). It has a striking electric-strawberry color, and offers a hint of walnuts and herbaceous qualities, which complement many of my favorite Thanksgiving noshes.
Closer to home, I also like to experiment with rosé from Oregon, particularly those made from Pinot Noir. Oregon winemakers have such a high "batting average" when it comes to red Pinot Noir, that they often do well with its rosé renditions as well. I like the one from Elk Cove Vineyards, one of our Essential Winemakers.
The best part about leading with rosé from Provence or Oregon? If you haven't finished the bottle(s) by the time you bring the bird to the table, they work equally as well with the main event.
Speaking of which …
---
Act II: The Main Event
Given the dozen or so dishes on the standard American Thanksgiving table, the one thing you'll need to look for in your dinner wine is versatility. As mentioned in our previous post, lower alcohol wines (no more than 13%) will perform better given the cornucopia of calories on the table.
Because of this, think of colder climates (or more extreme latitudes) as you shop. With less direct sunlight and cooler daytime temps to ripen the grapes (and therefore less opportunity to concentrate the natural sugars leading to more alcohol during fermentation), places such as France's Beaujolais, Burgundy and Loire Valley; Germany's Rheingau; Italy's Friuli-Venezia Giulia; Oregon's Willamette Valley; and certain regions of Chile can offer exceptional reds and whites with low alcohol.
---
Reds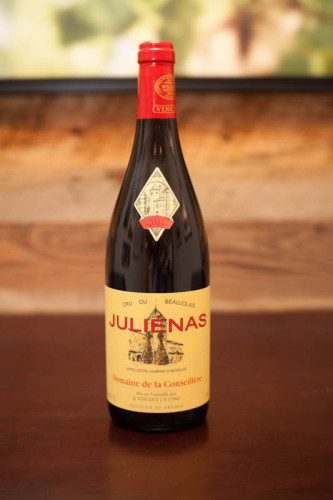 What am I bringing to the Thanksgiving table this year? Definitely a Cru du Beaujolais, more specifically, another taste of Chateau de Fuissé Domaine de la Conseillère Juliénas (★★★★★). It's in the running for my wine of the year.
I love that Cru du Beaujolais wines can simultaneously be fun and lively, yet deep and complex. Look for them by spotting their Cru/village names on the label: Moulin-à-Vent, Fleurie, Juliénas, Morgon, Régnié, St-Amour, Chiroubles, Chénas, Brouilly and Côte de Brouilly. And don't settle for Beaujolais Nouveau or even Beaujolais-Villages. They're too simple and overly fruity (and in the case of Nouveau, too poorly made) to work well on this table.
Yes, Beaujolais is consistently fruity (think bright cherries with hints of watermelon, banana or sometimes strawberry), so if you want something a little less playful and with a little more tannin, I'd recommend seeking out a Dolcetto d'Alba or Dogliani, or better yet, one of the Cabernet Franc wines from the Loire Valley. They offer a swirl of aromas and flavors that recall dark berries, peppers, anise and an herbaceous earthiness to invite one sip after another. Look for wines labeled Chinon, Bourgueil, Anjou or Saumur.
This weekend, we thoroughly enjoyed a bottle of the Cabernet Franc from Clau de Nell (★★★★ 1/2) — a winemaker that is new to me — from the town of Anjou.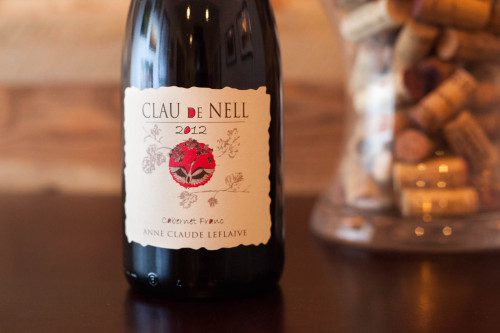 I'll be writing more about it in a few weeks, but the magic trick it pulled — rare among red wines — was aromatic power, palate complexity and low alcohol (12%) all intertwined together.
At first, it presented powerful aromas that reminded me of black licorice, musk and even pencil lead, but these eventually faded, revealing a wild swirl of plum, blueberry, violets and leather. Definitely let it breathe for a good 30 to 45 minutes before serving alongside turkey.
Whites
For whites, start with the aisles offering Alsatian and German Riesling, in particular looking for dry Riesling. Usually offering very low alcohol, they pair nicely with almost any food on the Thanksgiving table (minus, perhaps, cranberry sauce). And before you say that you don't like sweet wines, dry Rieslings can be distinctly zippy, with a natural acidity that cuts through fatty foods, and offers an illusion of sweetness that comes off your palate cleanly, inviting another sip.
Seriously, give Riesling another try if you have written it off, but if you are steadfast in your refusal, that's perfectly fine. The Chenin Blanc-focused wines of the Loire Valley are another excellent choice, particularly Vouvray Sec (made for Chenin Blanc).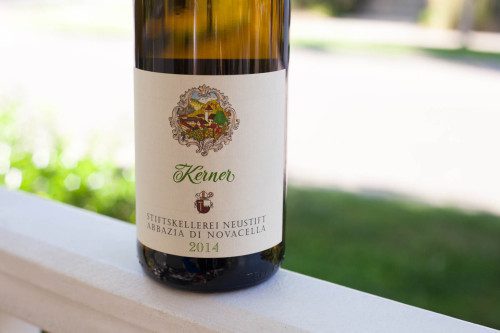 As far as which singular white wine I'll be bringing to the Thanksgiving table, I have to go with an Italian white wine I raved about earlier this year. Again, it is from another Essential Winemaker: the 2014 Abbazia di Novacella Kerner (★★★★★). Decidedly smooth with just a hint of tartness, this wine is the ultimate sidekick for any voracious foodie who travels the world via home-cooking. I don't see any reason why it wouldn't be a rockstar with turkey, gravy, herb-laden stuffing, potatoes and green beans.
---
Act III: The Pot-Bellied, Post-Mortem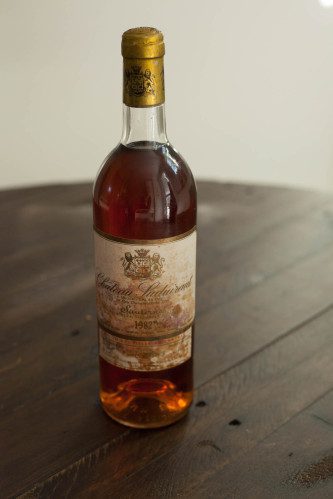 I know a guy who will probably be drinking this bottle (at right) after his Thanksgiving turkey. Let's just say he has a very generous family member who gifted him some choice bottles from a choice collection when he graduated with a very hard-earned degree.
I'll dive into the dessert wines of Sauternes another time, but I'm bringing this up because that same friend introduced me to Banyuls recently, and now I absolutely adore this dessert wine. Similar to Port, but lower in alcohol, Banyuls is a great transition from Thanksgiving to Christmas flavors, as it offers a deep, dark-fruit-and-mulled-spice kind of profile. They can also be fairly affordable.
For me personally, I might be too stuffed after Thanksgiving to open a dessert wine (maybe save it for trimming the Christmas tree in coming days). Instead, I'd recommend a sparkling wine to accompany the pie.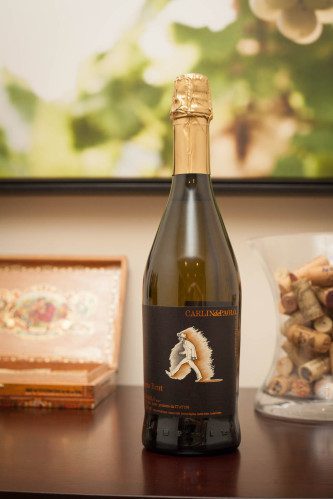 We recently profiled the excellent wines of the Schramsberg Estate in Napa, and they would certainly be a great choice. But I'd also recommend looking to Italy, and one of its many sparkling wines from the northern regions of the country. Everyone is familiar with Prosecco — and some good ones are out there — but I prefer Franciacorta, which is made in the same method as Champagne, and offers a wonderful, romantic toasty note that goes with any occasion. Another nice sparkling wine from Italy hails from Asti — the Non-Vintage Carlin de Paolo Spumante Brut  (★★★★).
We opened this wine way back on New Years Eve, and its a pleasant and festive wine with loads of baked apple, toast and traces of almond, all floating like a cloud on the palate. Who wouldn't want a little of that while washing down some pecan pie?