5
min read
Here's a little story that — in its own little way — sums up the differences between winemaking in the Old World and the New World.
And of course, it involves an Oregon winemaker. For my money, no other state in America — or region in the New World — represents as strong a connection to the Old World as Oregon. At least philosophically. Here, wines seem to be made for the table, to be enjoyed with food, as they are in the Old World. Part of it is climate, part of it is ethos, and while there are pockets of this European approach in California, Washington, South Africa, Chile and New Zealand, in Oregon it seems to be more prevalent.
Throughout the year, I've been trying to scratch Oregon's Burgundian surface a bit more to see what other connections to the Old World lie underneath. It appears that there is a little bit of Southwest France, a dash of Niederösterreich, a smidgen of Piedmont, and a whole lot of Loire.
It would be easy to assume this trend is an effort in mimicry, but these wines are far too interesting and unique to be duplicates. Instead, what's happening with these wines (at least the better ones that don't go off the rails … those exist too) is a mixture of European inspiration and scientific tinkering to get the most compelling, most unique, and most exact end-result.
The Wines of Leah Jørgensen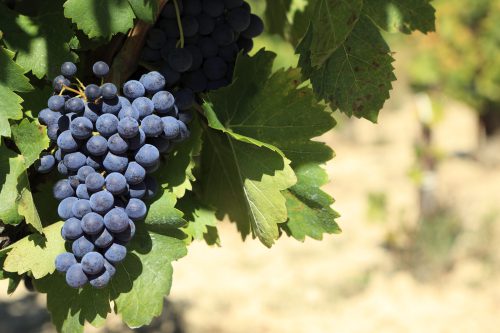 Which brings me back to Leah Jørgensen, a winemaker whose "Tour Rain" Cabernet Franc-Gamay we featured a few weeks back. I was so compelled by my first bottle of her wine, that I wanted to see what else she was up to. Many of her wines are sold in Oregon, but finding them online can be tricky. What I did find was her "signature wine" — a Blanc de Cabernet Franc.
Frankly, it is a wine I have never seen before, and that's because — according to Leah — its the first of its kind in the world.
"I knew I wanted to explore wine style here in Oregon, inspired by the Loire," she told me when I contacted her. My wife and I had drained this Blanc de Cabernet Franc in an evening, the two of us thinking, well that was certainly interesting. Now, I wanted to know more.
"I knew Cab Franc would be the main focus of my production, and I wanted to come flying out of the gates with something that would be special. I love Cremant de Loire bubbly and have enjoyed those sparklers with base wine from Cab Franc without skin contact, often blended with Chardonnay or Chenin Blanc … I figured, if Oregon producers can successfully bottle delicious white Pinot Noir, why not bottle the world's first white Cab Franc?"
Indeed. Why the hell not?
Here was a wine that I can honestly say tasted unlike anything I've ever had before. It possessed a real mellow beauty to it that was honest, natural and refreshing. On the nose, it was a rousing mix of lemon, beeswax and rosemary, gradually giving way to deeper fruity scents like apricot and peach. The palate was quite different, recalling perfectly ripe nectarine, blood orange, a trace of honey and a somewhat mysterious floral note that made me think of lilacs.
But the wine's best part was the ultra-smooth texture. It was the kind of wine you pause to swallow, just because it is still speaking to you and you'd hate to interrupt what it is saying.
This was a Cabernet Franc? Really? Best known for its resemblance to plums and green peppers, here it was, doing a pretty compelling impersonation of lemons and nectarine. It was like watching Foxcatcher and saying to yourself "that's really Steve Carell?"
Turns out, this is by design, and here's where that innovative spirit of New World winemaking can take an Old World tradition and turn it into something completely new.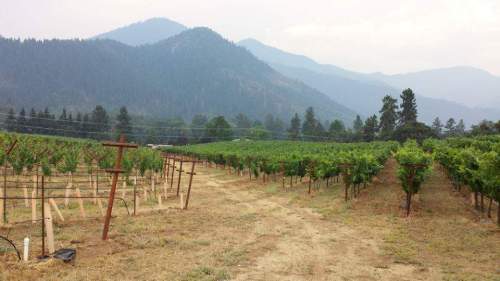 In recent vintages, Leah has collaborated with Herb Quady, a grape-grower in Southern Oregon who grows Cabernet Franc, specifically in a parcel called Mae's Vineyard. From the vineyard to the vat, they strived to limit methoxypyrazines, the compounds that contribute to Cabernet Franc's vegetal character.
To do this, they collaborated to introduce drip irrigation, selectively remove leaves from the vines, and time the harvest to pick the Cabernet Franc at the right level of ripeness, which they determined to be 21 brix. "Herb could not have delivered more perfect fruit for the profile I was after," notes Leah.
From there, the grapes were whole-cluster pressed — which keeps the grape skins from influencing the wine — and the juice was fermented in oak barrels. The lees (or dead yeast cells, which absorb oxygen) were regularly stirred to give the wine a bit more richness and complexity.
Many of these techniques are ancient tricks of the trade, but what is so new and exciting about this wine is their application — on a bold, earthy and somewhat funky red grape that has still, in many circles, yet to catch on. For that, Leah's approach isn't just innovative, but would seem downright risky financially.
But it sure seems like it will pay off. Just this afternoon, Europa Wine Merchants (where I bought this wine) teased the release of a new vintage of Blanc de Cabernet Franc … from Jackalope Cellars. While she may have had the spark of inspiration for this wine in 2011, it would seem she has company on the marketplace.
This is Oregon, after all: a place where the winemaking culture is equal parts Old World tradition and start-up incubator.
2014 Leah Jørgensen Cellars Blanc de Cabernet Franc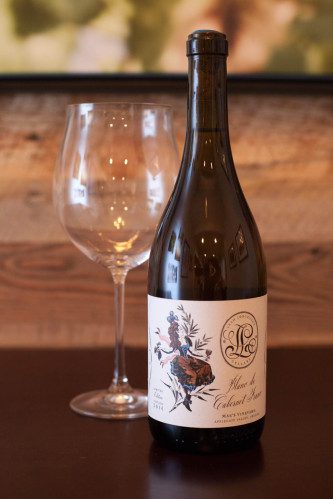 Applegate Valley AVA, Oregon
Grapes: Cabernet Franc (100%)
Alcohol: 12%
Ratings:★★★★★ (out of five)
Aromas, Flavors & Structure: ★★★★★
Food-friendliness: ★★★★ 1/2
Value: ★★★★
Tasting notes: A most unusual white wine that first comes across as quirky, but then mellows into a truly distinctive beauty. Offers aromas of lemon, rosemary, beeswax and gradually gives way to deeper fruit aromas as it is exposed to air — ripe nectarine, blood orange and honey. There is even a note that recalls lilacs. Ultra-smooth texture and medium body, with some minerality on the finish. A wine with a lot of grace. Drink young.
Recommended for: Summer sipping on the back patio. With food, I'd aim for roasted chicken or cedar-planked salmon.