3
min read
In June, I traveled across the Bourgogne wine region with wine writer Shana Clarke (who has contributed to Opening a Bottle in the past), visiting domaines in the Mâconnais, the Côte Chalonnaise, the Hautes Côtes de Beaune, the Côte de Beaune and finally, the Côte de Nuits. Among the many memorable wines tasted, was one particular bottle enjoyed over lunch at Restaurant La Toute Petite Auberge. We had just come from Domaine Anne Gros, just down the road from the restaurant in Vosne-Romanée, which is perhaps the most prestigious and expensive wine villages on the planet. No, this wine was not a Grand Cru Richebourg, nor was it from the esteemed domaine at which we had just barrel-tasted. It was from Chorey-les-Beaune, the vastly overlooked, flat-land village on the outskirts of Beaune. And it came from a little-known winemaker that I raved about a few years ago: Jean-Pierre Guyon.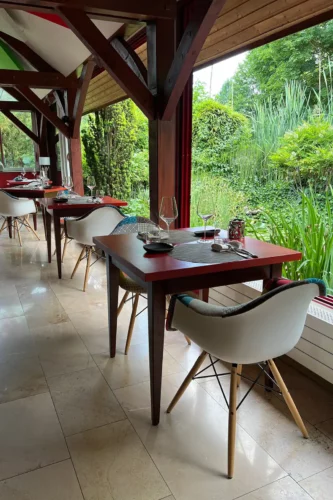 What was so interesting about this wine? Well, for one, it was the company. Our trip was a customized press-junket sponsored by Bourgogne Wine Board (BIVB), the official organization that presides over the region's wine laws and marketing. One of their directors had joined us for lunch, and this was the Pinot Noir she chose to order: not a show pony oak bomb from a major négociant house. Not a $300 Grand Cru from any of the vines within a good frisbee toss of our restaurant. She went with a small, independent (and certified organic) producer working with old vines in a named lieu-dit vineyard that even the most ardent Burgundy collectors have never heard of.
Now, governmental employees aren't known for their extravagant per diems (and if they are, what are they thinking?), so I assume this had to be driving much of the decision. But her selection also spoke to a greater trend in Bourgogne that I have been covering tirelessly ever since the trip. You may have to lift the covers and look underneath to drink well and for a reasonable amount of money in Bourgogne these days, but it can be done, especially at the Village level. Chorey-les-Beaune has been a favorite of mine for sometime, partly because of its underdog status, but also because of Jean-Pierre Guyon and Domaine Tollot-Beaut's work in the village. These wines are not exceedingly complex or age-worthy, but their leanness, fresh and on-point aromas, and culinary instincts make them a great buy.
Read our First-Taste Guide to Chorey-les-Beaune
You might struggle to find this wine stateside (but certainly seek out Jean-Pierre Guyon if you visit Beaune), so take this advice more broadly. It is well beyond time that Burgundy obsessive's broaden their perspective.
2018 Jean-Pierre Guyon "Les Bons Ores" Chorey-les-Beaune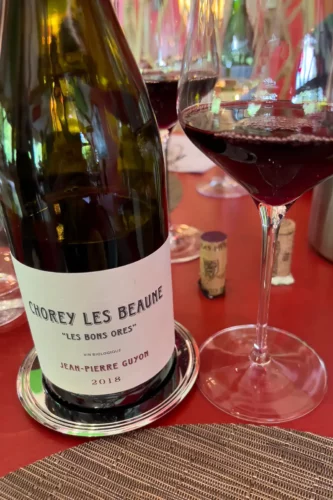 Chorey-les-Beaune AOC (Bourgogne )
Grapes: Pinot Noir (100%)
Alcohol: 13.5%
Opinion: ★★★★ 3/4 (out of five)
Food-friendliness: Impeccable
Value: Very Good
A beginner might like … the beautiful aromas. What's not to love about the red fruit, the tea-like character, and the slightly woody sensation this wine brings on the nose? For me, it seemed specifically to smell like raspberries and faint cedar, an aromatic story I couldn't turn away from.
A wine obsessive might like … the megawatt radiance of this Pinot Noir. One would expect that on the flatter land surrounding Chorey-les-Beaune, vines would retain more water and endure higher temperatures, yielding a wine that is bold, rich and maybe even a little dense. But these old vines (and the savvy vigneron who coaxed this wine into existence) have something antithetical to say about that.
Note: My educational trip to Bourgogne was sponsored by the Bourgogne Wine Board (BIVB), but they have had no say in editorial decisions carried out on Opening a Bottle. Learn more about our editorial policies.