12
min read
It was the Bourguignons who taught the world that terroir ought to be tasted in wine. It is an idea that long ago caught fire and spread to any pocket of the globe with a vineyard. While the wine industry and its marketers have largely turned the idea of terroir into a hollow husk, Burgundy Village wines mostly live up to the promise.
Nothing is more critical in Bourgogne right now than winning over a new generation of drinkers. And let's be honest: the starting point for that is not the Grand Cru level.
So it stands to reason that the 44 village appellations of modern-day Bourgogne have higher expectations of terroir than the appellation-based wines you find elsewhere in the world. Sancerre Rouge and Jura Chardonnay can be nice, but are we really going to parse the smallest details of their landscape like we do with Chambolle-Musigny, Saint-Aubin or Chablis?
This fawning over minutiae has created an intense following for Burgundy wines1 , so much so that the calculation for "value wines" is quite skewed. Incredibly, there are few resources out there for passionate wine lovers (as well as newcomers) to interpret the Bourgogne landscape with only $50 in hand.
That's right, $50. Like I said: "value" in Bourgogne is a different calculation. For most Millenial and Gen Z drinkers, $20 is a more comfortable starting point (in which case, check out our Burgundy Regional Wines coverage). Prestige does not impress them like it impressed previous generations, and that is a firm challenge for a legacy wine region like Bourgogne. In fact, nothing is more critical in Bourgogne right now than winning over a new generation of drinkers. In talking with several producers on the ground in June, it is clear that they are aware of this. They also seem to know that luring new drinkers couldn't possibly begin at the Grand Cru level.
About This Guide to Burgundy Village Wines with Value
With that in mind, I created this First-Taste Guide to spotlight 8 villages that (a) boast terroir at the Village level, (b) can sometimes be found for under $50, and, most importantly, (c) consistently taste like they are worth the money you spent.
Within the next few years, some of these villages might price their way off this list (I'm looking at you Pernand-Vergelesses … you got a good thing going) so we'll try to keep this updated.
If you are part of that new generation of wine drinker, than this article is for you. I write about wine for a living, which means that naturally, I don't spend $50 on a wine very often. This isn't a high-paying gig! But when I do, Bourgogne is one of a handful of places where I would, starting with the villages listed below.
Pair this article with our regional wine guide, linked below, and you'll have the solid footing you need to get started with Bourgogne. Also, be sure to check out our entire collection of First-Taste Guides, free to read for everyone.
Read Part 1: Our Guide to Burgundy's Regional Wines
Note: For purposes of this exercise, I am excluding village-level Premier Cru wines due to cost unless otherwise noted.
---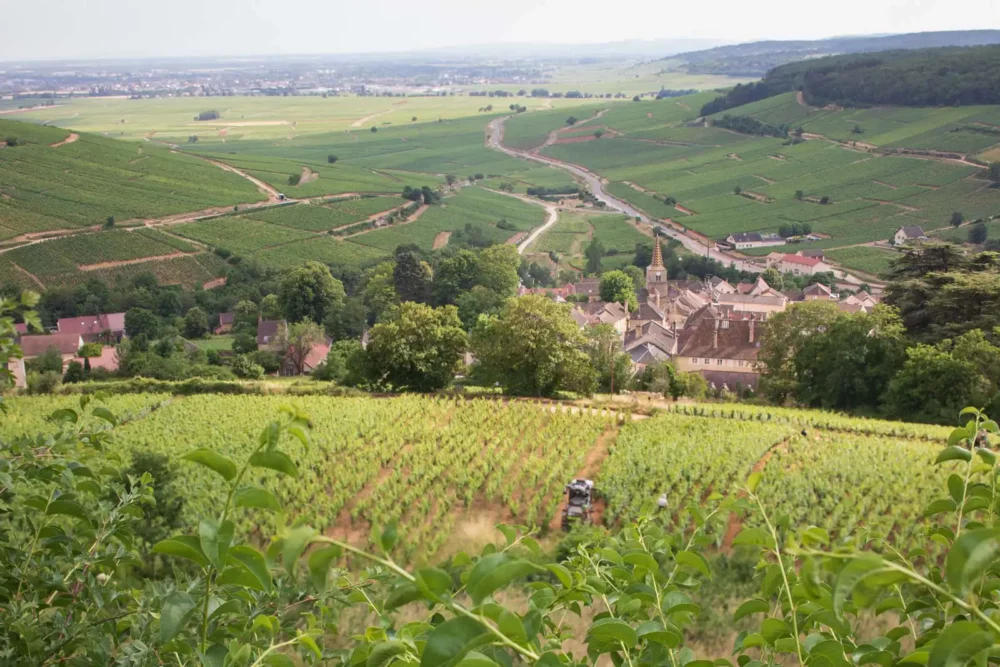 Pernand-Vergelesses
Expect to pay around $50/bottle for a Pernand-Vergelesses AOC wine (red or white).
We start in the heart of it all, just outside Beaune, in a cleft of the famed Côte d'Or where the beautiful village of Pernand-Vergelesses resides. The hulking hill of Corton anchors the landscape to the immediate southeast, with the Grand Cru Corton-Charlemagne rolling right up to the village border. This variance in the geography means Pernand-Vergelesses' vineyards have a variety of aspects and exposures, with some Premier Cru vineyards facing due south just north of the village (such as the excellent Premier Cru Sous Frétille), east- and west-facing vineyards abutting the forests further north, and an apron of prime east-facing vines — a bulk of which is Premier Cru — stretching south of the village.
Why is this variety important? For me, it is because of hail, which is a persistent threat these days along both the Côte de Beaune and Côte de Nuits, and which can severely limit yields from vintage to vintage. But hail is frequently localized, and while pockets of Pernand-Vergelesses might be decimated from one storm, others might be left untouched. Producers with ample holdings here can accommodate for these situations by blending plots — including Premier Cru vineyards — into their village wine, which not only ensures supply from year-to-year, but which can also ensure higher quality.
The taste profile of this village's esteemed Pinot Noir wines is elegant yet somehow fleshy, with sturdy but accommodating tannins. I have always found a lot to like at the village-level from Pernand-Vergelesses, and having now been there, I will always think of that view of the vines above. What a memory!
The white wines are a little less distinctive, but depending on the producer they can be surprisingly refined given the price. They don't carry the opulence found further south in the Côte de Beaune in places like Auxey-Duresses or Meursault, but they are consistently refined and pleasurable.
Pernand-Vergelesses Summary
8 Premier Cru vineyards
76 hectares planted for red wines
65 hectares planted for white wines
See pricing on Pernand-Vergelesses
See a Map of the Pernand-Vergelesses AOC
---
Savigny-lès-Beaune
Expect to pay around $45/bottle for a Savigny-lès-Beaune AOC wine. Top producers' wines can reach near $100.
Just south of Pernand-Vergelesses, Savigny-lès-Beaune is undergoing a major renaissance at the moment. The producers here are superb, but since many of them are not working in Grand Cru sites, they've yet to achieve the kind of megawatt stardom that would jack-up their prices. My visit was fleeting, spent entirely with the historic and exceptional producer Domaine Pierre Guillemot. But in that time, I realized how happy I would be if I could just park myself in Savigny-lès-Beaune for a month to learn all of its intricacies.
The terroir in Savigny-lès-Beaune is subtly different from its northerly neighbors because it occupies a side valley that climbs into the Hautes-Côtes de Beaune highlands. Cooling winds and a finely tuned microclimate come into play, and complex soils — some of which are nearly identical to the nearby Grand Cru Corton-Charlemagne — offer fertile ground for studying terroir nuances if you want to.
The red wines are the star here. Pronounced and beautiful red fruits seem to be the commonality, but there is always a savory streak, too, something that feels quintessentially Burgundian. While the Chardonnay wines are vastly outnumbered, they often have a jewel-like quality, their goodness making one ask "why is Savigny-lès-Beaune not known as a white wine village?"
Savigny-lès-Beaune Summary
22 Premier Cru vineyards
310 hectares planted for red wines
46 hectares planted for white wines
See pricing on Savigny-les-Beaune
See a Map of the Savigny-les-Beaune AOC
---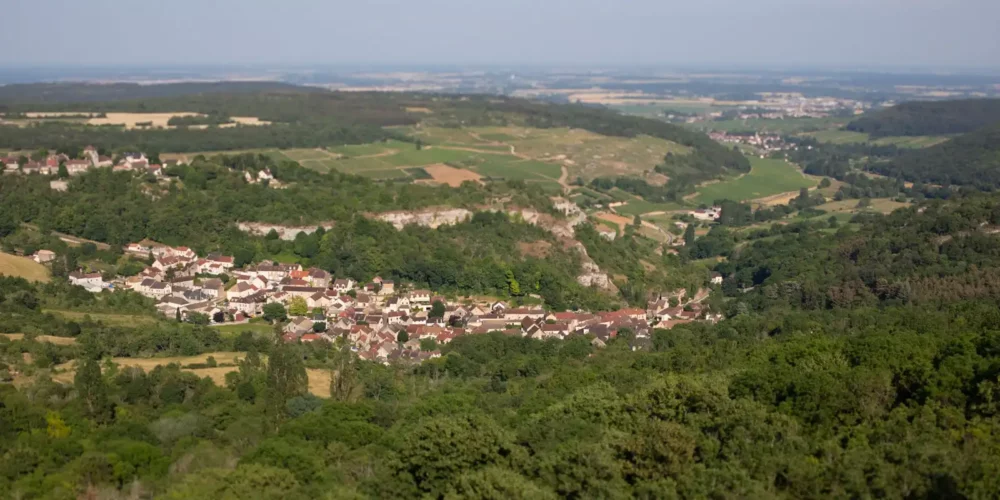 Saint-Romain
Expect to pay around $50/bottle for a Saint-Romain AOC wine.
There is a good reason Saint-Romain is one of the least-known Côte de Beaune's appellations: it is way off the beaten path, up a side valley from neighboring Auxey-Duresses, as you can see in the photo above. There are also no Premier Cru vineyards in the village.
But there is good reason to keep an eye on Saint-Romain. Its high elevation used to weigh down the village's reputation, as achieving ripeness was a struggle. But with climate change, that feature is now becoming a boon, and there are notable producers harvesting from its slopes, such as Hubert Lignier and Domaine Ponsot.
The wines I've tasted from here all have a nice balance, particularly the Chardonnay, which outnumbers Pinot Noir by nearly 2-to-1. Look for a crispness to the acidity here, as well as a briskness to the fruit.
Saint-Romain Summary
No Premier Cru vineyards
69 hectares planted for white wines
38 hectares planted for red wines
See a Map of the Saint-Romain AOC
---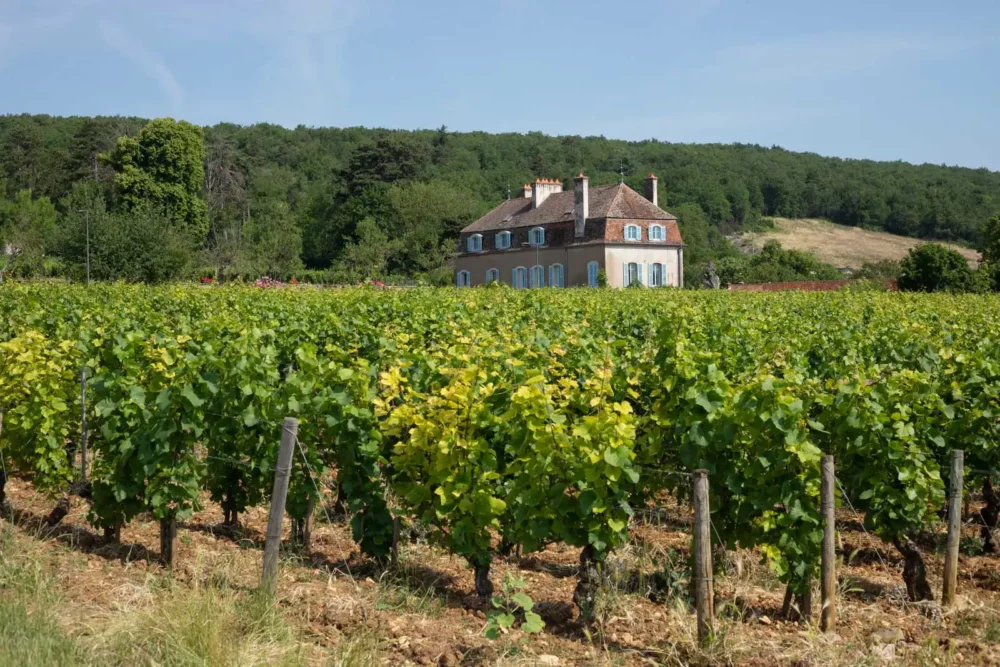 Côte de Nuits-Village
Expect to pay around $50/bottle for a Côte de Nuits-Village AOC wine (red or white).
This is essentially the introductory wine to the Côte de Nuits, that iconic escarpment north of Beaune which yields the world's most coveted Pinot Noir from the microplot Grand Crus of Romanée-Conti, Chambertin and Clos de la Roche, to name just a few.
Of Bourgogne's 44 village appellations, the Côte de Nuits-Village is the geographical oddity. Split in two like Malaysia — with most of the Côte de Nuits stretching between its northern and southern sectors — the Côte de Nuits-Village was created to cover the village terroir of five villages: Fixin, Brochon, Premeaux, Comblanchien and Corgoloin. Of course, Fixin has its own AOC which is gaining in reputation, and which producers can decide to name accordingly, while Brochon's southern vineyards belong to Gevrey-Chambertin. In the southern sector, only a small handful of Premeaux's vineyards are dedicated to the Côte de Nuits-Village AOC, the rest going to Nuits-Saint-George. Comblanchien and Corgoloin, however, are more fully committed to the appellation. This post by Winehog does a good job of sorting out the whole mess. (It is a lot more simple on a map than in paragraph form).
Geographic confusion aside, consumers need to know that the Côte de Nuits-Village covers vineyards that — while not exactly prime nor famous — are well-situated enough to convey the structure and profile of the Côte de Nuits' iconic interpretation of Pinot Noir. That taste profile is richly savory and herbal, with a prominence of dark berries and firm structure that feels suitable for aging.
As such, these wines can be priced well above the $50 mark, especially from the legendary producers of the area (and there are many). However, it is possible to find some nice bargains hailing from this appellation.
Côte de Nuits-Village Summary
6 Premier Cru vineyards (all in Fixin, and usually labeled as Fixin instead)
156 hectares planted for red wines
10 hectares planted for white wines
See pricing on Côte de Nuits-Village
See a Map of the Côte de Nuits-Village AOC
---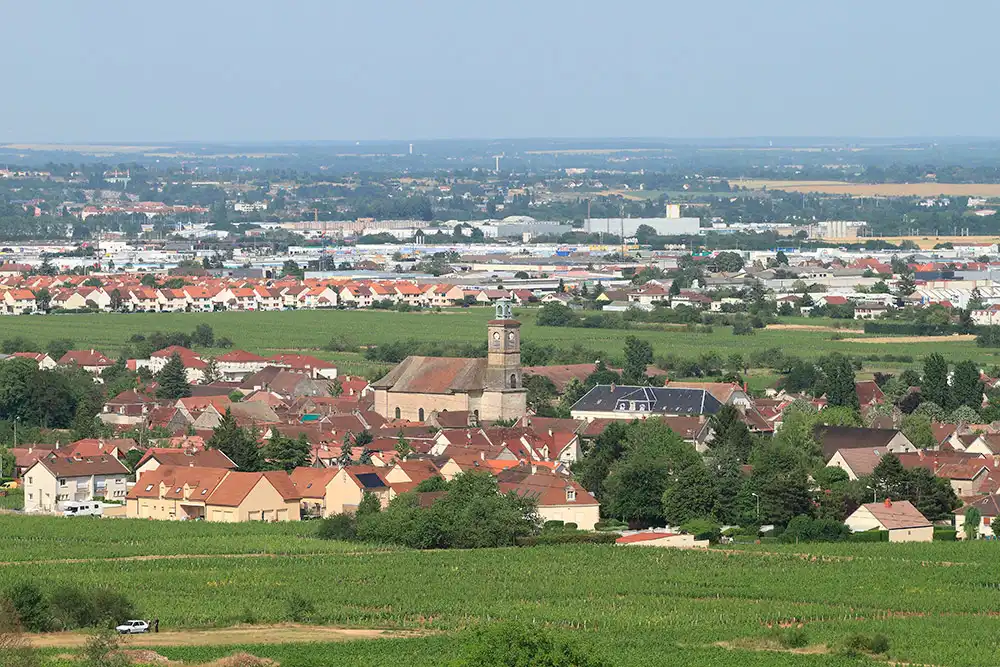 Marsannay
Expect to pay around $50/bottle for a Marsannay AOC red wine, and roughly $30–$40 for the rosé.
Marsannay holds an interesting bit of trivia within Bourgogne: it is the only village appellation that allows for rosé.
Rosé from Pinot Noir is by now quite familiar to us all, thanks to the many successful versions hailing from Sonoma, Oregon and the Loire. Marsannay's rosé mostly conforms to that ideal, with perhaps a bit more spice to its complexion thanks to some producers use of whole-cluster fermentation. In an interesting wrinkle, Pinot Gris is allowed as a blending grape in the rosé as well.
Which brings us to one of the reasons why Marsannay's terroir was historically been overlooked: its vineyards have been a mixed bag of grape varieties. That trait is esteemed today — we love variety and uniqueness — but it was dismissed in the early 1900s when many of the appellations and vineyards were codified by law.
Marsannay eventually got its due in 1987, but since this appellation is squeezed by Dijon's suburbs, and not centrally located, it will continue to play second fiddle to the Gevrey's, Morey's and Chambolle's to the south. As a result, it remains a decent AOC to find reasonably priced red and white wines.
Marsannay Summary
No Premier Cru vineyards
184 hectares planted for red wines
42 hectares planted for white wines
17 hectares planted for rosé wines
See a Map of the Marsannay AOC
---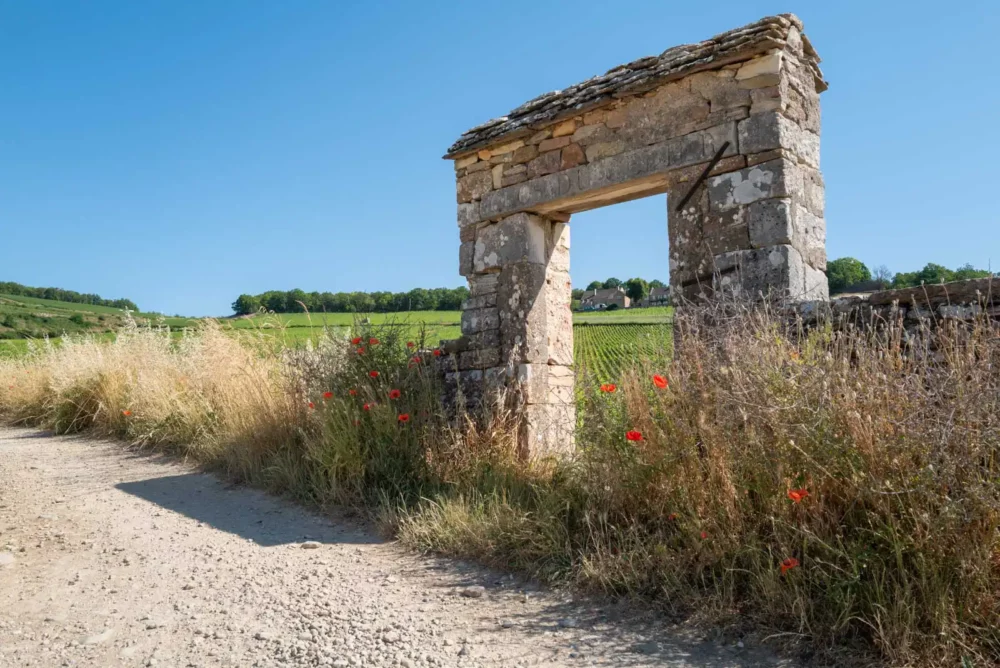 Givry
Expect to pay around $25/bottle for a Givry AOC wine, and $45/bottle for a Givry Premier Cru.
Primarily devoted to red wines, the Côte Chalonnaise's Givry (not to be confused with Gevrey-Chambertin) strikes me as chronically underrated. Thirty-eight Premier Cru vineyards have been classified here, most of them situated inside a large, south-facing amphitheater above town. However, unlike the Premier Cru wines of Pernand-Vergelesses or Savigny-lès-Beaune, these ones are priced more modestly. The trade-off here, however, is that the soil of the Premier Crus in Givry is more homogenous, creating less variety from one plot to the next.
Nonetheless, the Pinot Noir I have tasted from here is supremely elegant: at its core is a main line of minerality that endures through to the finish, making these easy wines with which to pair a variety of cuisine.
Givry Summary
38 Premier Cru vineyards
248 hectares planted for red wines
55 hectares planted for white wines
---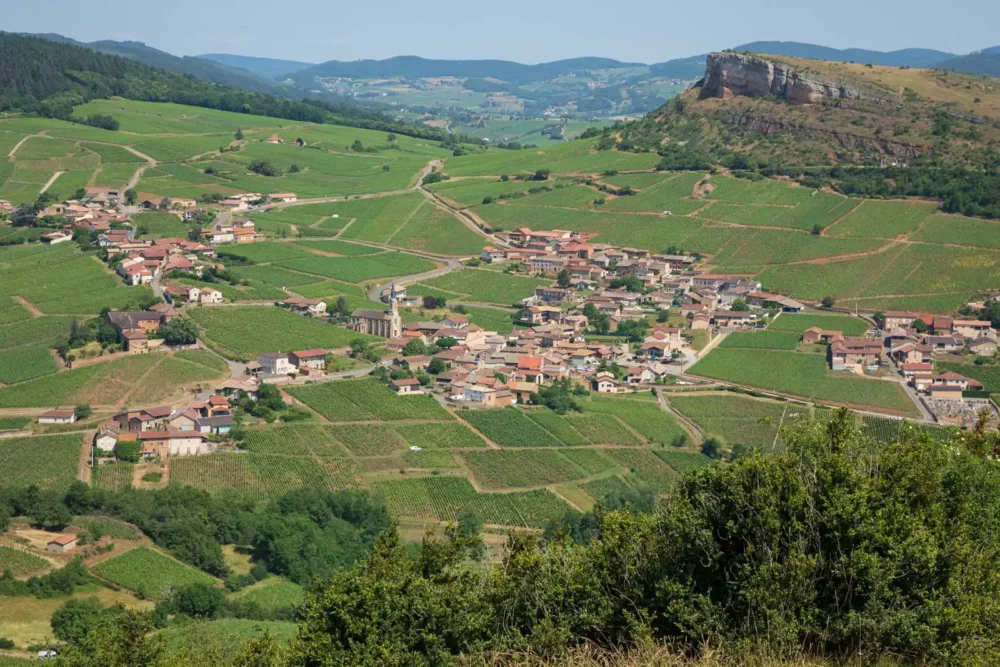 Pouilly-Fuissé
Pouilly-Fuissé's pricing is quite variable. But I would expect to pay around $30/bottle for a Pouilly-Fuissé AOC wine, and $50/bottle for a Pouilly-Fuissé Premier Cru.
During multiple tastings in Bourgogne, I found the most well-known name in the Mâconnais living up to its reputation. Chardonnay seems to amp-it-up in this series of photogenic valleys: Pouilly-Fuissé is highly aromatic, full-bodied and high in alcohol, yet held together by a focused, quick-paced acidity that races across the palate. Much of this magic comes from Pouilly-Fuissé's former life as a seabed. The prominent Roche de Solutré and Roche de Vergisson are not just iconic markers on the landscape, they are towering reminders of the limestone subsoil under all those vines, which aids drainage and promotes deep-searching by the roots.
Given the size of the appellation, buyers should know that the quality can be a bit variable, but it is trending up as promising young vignerons are popping up left and right, offering a well-priced, high-quality take on white Burgundy.
Pouilly-Fuissé Summary
22 Premier Cru vineyards
759 hectares planted for white wines
See a Map of the Pouilly-Fuissé AOC
---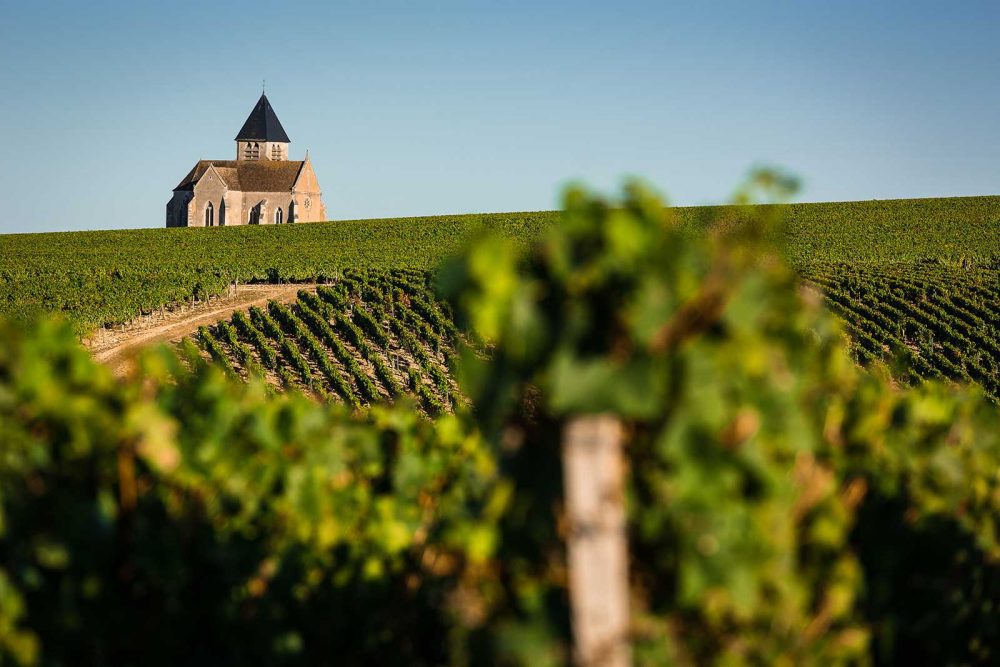 Chablis
Expect to pay around $40/bottle for a Chablis AOC wine. Premier Cru wines consistently range from $45–$85/bottle.
There really is nothing like Chablis. Yes, it is Chardonnay, and yes it comes from Bourgogne, but this village's northern latitude, culture of winemaking, and preponderance of a certain epoch of limestone makes it the most consistently mineral white wine in the world. Across my career tasting wines, that attribute has often had me comparing everything from Etna Bianco to Chavignol Sancerre to Chablis. It simply pops into mind whenever a white wine boasts anything resembling petrichor on the nose.
Chablis is no secret, and while you can spend a crazy amount of money on the wines from top domaines, thankfully, there is enough quantity and diversity on the market to aid cost-conscious students of wine like us. While there is one large Grand Cru divided into seven parcels — as well as 40 Premier Cru climats scattered about the sprawling hills — newcomers to Bourgogne can drink very well at the village level, particularly with wines labeled Vieilles Vignes, or old vine.
Chablis Summary
40 Premier Cru vineyards
3,367 hectares planted for white wines
Comment Below
OK, so that was only 8 of 44 villages. In your opinion, which ones deserve to be listed too? Where do you source high-quality, solid value Burgundy wines?
Better yet, which wines from these villages have you enjoyed?
Leave me a comment below.
---
1An editor's note on nomenclature. We included this in our Bourgogne Regional Guide, but it is worth repeating here. I have chosen to use the term "Burgundy wines" when relating to the product coming from this region, and the region's true name, Bourgogne, when referring to the region and its landscape.
The local authorities are pushing for all of us to drop the phrase "Burgundy," which is understandable, and certainly a wish I would love to honor. However, the main reason I am keeping the phrase "Burgundy wines" is purely because that is what people search for, especially newcomers which this website is designed for.
---
Note: My recent travels to Bourgogne were funded by the Bourgogne Wine Board as part of a press trip. Nonetheless, I have retained all editorial authority in what is covered here. Learn more about these trips and our editorial standards.