17
min read
The Collio DOC in Italy's northeastern region of Friuli-Venezia Giulia is one of the country's best places for both red and white wines. In fact, I think it — along with the Etna DOC in Sicily — most firmly debunks the myth that DOCG wines are inherently of higher quality.
As I noted in a recent column, DOCG wines are simply more specific. Yes, they can be among the greatest in Italy, but more often than not, it is just about tighter regulations. They do not have a lock on the "fine wine" market.
In the Collio DOC, variety — both of grapes, terroir and style — is the driving force of identity. Quality isn't so much a function of regulations as it is an offshoot of the area's winemaking culture. And it is consistently high on its own.
That culture is inextricably linked to Slovenia. Look at the map I created for our recent class and you'll notice that the Collio DOC is crescent-shaped, hugging the Italy-Slovenia border and effectively cradling the Brda wine district just over the line. It is easy to claim that the border is arbitrary and that these two wine regions are conjoined twins, but in truth, the Collio comprises a series of ridges and hills that face the Adriatic Sea, which seems to give its wines — whether white or red — more body and intensity.
Last fall and into this year, I have been tasting an extensive range of wines from the Collio, the best of which I am summarizing below. Collio's wines are mostly white, but the reds are chronically overlooked and underrated by the wine media. It is a real millieu of international and native varieties, so that is how I've organized this list, with a quick and helpful summary at the start for each.
While vintage certainly matters, this report is less focused on that. I've intermingled some stellar examples of aged wines too to show the long-term potential. The important thing to take from this is the producers included, and to inspire you to taste the range from Collio yourself. The rewards are deep.
And if you plan on visiting Friuli, this should be a good starting point for creating an appointment list for your visits.
Navigate This Guide
---
Collio Friulano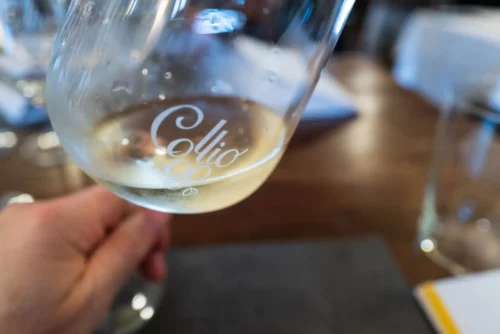 Tocai Friulano is the most important native white grape variety in the area. I crafted an in-depth First-Taste Guide to Friulano late last year, which explains it in greater detail. These are fresh, versatile and beautiful white wines that really benefit from 3 to 8 years of aging, in which the tightly wound flavors (think: peach, strawberry, flowers and mint) seem to relax and expand on the palate. I don't want to convey that Friulano has to be aged to be enjoyed. These wines offer quite a bit before their full potential is released, but they may strike you as more similar to other Italian white wines (especially Fiano and Verdicchio) in their youth.
2020 Bolzicco Collio Friulano
Winemaker Michele Tomba works next door to the Raccaro family (see below) on the slopes of Mount Quarin. This is a hidden gem producer that importers ought to pay more attention to (it certainly qualifies for our icon). Each vintage of the Friulano (★★★★ 3/4) is held back at the winery for 12 months in order to tease out the tea-like tones and the floral aromatics, which harmonize nicely with its zingy acidity.
2020 I Clivi "San Lorenzo" Collio Friulano
This wine (★★★★★) was recommended as one of the better "first taste" options in our beginners guide to Friulano. Because of Collio's terroir (versus the neighboring Friuli Colli Orientali, where I Clivi also works) the wine is given extended time on the lees to round out its fleshy character and soften the landing on the palate. As I noted in that guide, "the wine is fruity on the nose, with a wild swing of peach, apple and pear coming at you all at once, as well as a silky, nutty and mellow approach on the palate."
2020 Borgo del Tiglio "Ronco della Chiesa" Collio Friulano
Borgo del Tiglio is widely considered one of the greatest producers of Friulano (★★★★★), and for good reason. There is just so much inside this wine, that drinking it young from a 750mL bottle, I couldn't help but feel like some of it passed my palate undetected — like reading a rough draft script of a future Best Picture.
Learn more about this wine in my vineyard story series profiling the two beautiful single-vineyards of Borgo del Tiglio.
Or read more about Borgo del Tiglio
2018 Renato Keber "Zio Romi" Collio Friulano
Along with Bolzicco, Renato Keber struck me as a winery importers need to pay more attention to, and no other wine better demonstrated this family's prowess than their "Zio Romi" Friulano (★★★★★). I enjoyed this wine with four years of age, and that seemed to make all the difference, as the relaxed yet still-structured wine offered several sensory entry points to its strawberry, rose petal and savory highlights. The persistence of this wine is incredible.
2018 Raccaro "Rolat" Collio Friulano
My first priority upon returning from Friuli was seeking out this vintage (★★★★★) and buying it to age at home. As I noted in the first-taste guide:
The Raccaro family has a close bond with Friulano and with the vineyards of Mount Quarin, where many believe Tocai Friulano reaches its apex of precision and complexity. Taking its name from the oak forests that drape the upper slopes of the mountain, the 2018 "Rolat" Collio Friulano shows a remarkable generosity of aromas and flavor, and is expansive yet precise on the palate — a juxtaposition that feels exciting and enticing. This grand wine, along with Borgo del Tiglio's Ronco della Chiesa, is the one to aspire towards as you explore Friulano.
---
Collio Pinot Grigio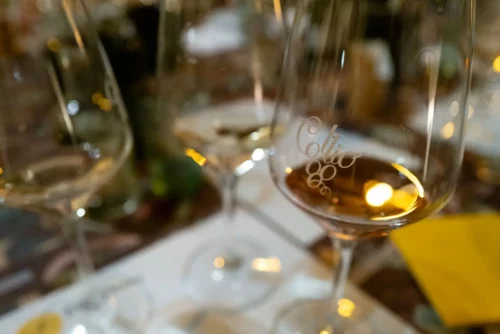 Leave all of your Pinot Grigio biases at the counter. Collio's version of this international grape is rich, rounded, complex and very precise on the finish. While I do not find these wines to be as aromatic as Alsace or Alto Adige (the only other two places in Europe where reliably good Pinot Gris/Pinot Grigio can be found), their depth and detail on the palate can be beguiling.
There are two overriding styles: a standard white wine expression of the grape, and Ramato, in which longer maceration yields a coppery, onion-skin colored wine. Producers admitted during a class on the wines that they struggle to sell these wines internationally, which is a shame, because they certainly ought to have a place at our table.
2021 Livio Felluga Collio Pinot Grigio
Pinot Grigio from Collio is not particularly intense aromatically, but the substance on the palate is substantial. Livio Felluga's entry level Collio Pinot Grigio (★★★★ 3/4) is an easy-to-find wine that performs very well in the glass. It is vinified like a classic Pinot Grigio, but with a lot more care and attention to the details, which presented to me as bright golden fruits, a twist of something tropical like papaya, and best of all, a rounded feel on the palate that was punctuated by stony minerality.
2021 Venica e Venica "Jesera" Collio Pinot Grigio
Venica e Venica is one of Friuli's superstar producers, and that reputation is rightfully earned. The Jesera Pinot Grigio (★★★★ 3/4) shows the finesse winemaker Giampaolo Venica employs with all of his wines, as it is neither rich nor extracted, yet also not featherweight. That happy middle-ground he occupies with this wine is decked out in silky fruits (to me, a lovely sour peach) with a strong savory and salty cord to lead you on. This is an expansive wine that really improves one hour after opening.
2019 Colmello di Grotta Collio Pinot Grigio
Another producer, but worth including here. There are two Colmello di Grotta wines featured here, the first (★★★★ 3/4) is fermented in stainless steel only. As with some of the Friulano wines made in Collio, the producer has calculated the need to hold the wine back for one year before release to allow it to settle. Juicy and lean, with a lovely finish, this wine conjures memories of candied fruit and mint.
2019 Colmello di Grotta Collio Pinot Grigio Ramato
I like macerated white wines a lot. I know they're not everyone's jam, but the hedonistic tones are like catnip for my palate. The Ramato from Colmello di Grotta (★★★★★) is a blend of amphora- and stainless steel-fermented wines, and it includes longer maceration time. This treatment seems to turn the rather non-aromatic Pinot Grigio into a parfumerie: cherries, peach, violets, black licorice and a savory streak that made me hungry all came across on this remarkable wine. Despite the decadence, it maintains a lovely silky elegance through its core.
---
Collio Sauvignon Blanc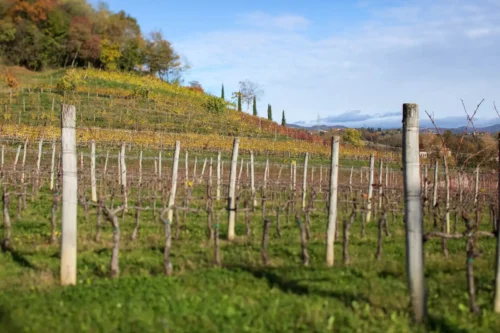 Collio quietly makes some of the world's best Sauvignon Blanc. The region's ponca soil provides ample drainage and seems to give Sauvignon Blanc a steely backbone on which to build its remarkable personality. These wines are fleshier and less taxing than many of the overly spicy, overly green-noted Sauvignon that have defined the international style for decades. And they are capable of lengthy aging, if you ever come across a bottle. (Few of us are eccentric enough to lay a white wine down for 10 years, although Collio and the neighboring Friuli Colli Orientali had me entertaining such thoughts).
Note that in Collio and elsewhere in Friuli and Veneto, they usually drop the "Blanc" from the label, so these wines are listed as just "Sauvignon."
2021 Venica e Venica "Ronca del Cerò" Collio Sauvignon
The best producer of Sauvignon in Italy — from what I've encountered — is Venica e Venica. It is not even particularly close. During my visit with Giampaolo Venica at his beautiful, countryside winery in Dolegna del Collio, I tasted their two standout Sauvignon.
Ronco del Cerò (★★★★ 3/4) is a blend of 11 different vineyards, and it takes its name from the small stream which flows through the winery property. The nose is very appealing, suggesting orchard fruits and enticing spice with a very direct approach. What makes Venica e Venica's two Sauvignon wines so special is their subtle elegance and delicate caress, but once I reached Roncò delle Mele (see next), Roncò del Cerò seemed downright shy in comparison.
2021 Venica e Venica "Roncò delle Mele" Collio Sauvignon
Roncò delle Mele has long been one of Italy's most recognized and awarded white wines. It's justified. Towering, intense, mineral, complex and age-worthy, it checks so many boxes for lovers of fine wine. The 2021 (★★★★★) is no different in this regard, but I found even more detail than previous vintages. On the nose, it conjures the salty-sage highlights of saltimbocca, swaddled up in layers of orchard fruit with a petrichor lift. This — along with Renato Keber's "Zio Romi" Collio Friulano (above) and Raccaro's Collio Bianco (below) — was the best wine I tasted in Collio. It is superb. Seek it out.
2021 Livio Felluga Collio Sauvignon
Back to Livio Felluga. This is a familiar interpretation of Sauvignon Blanc (★★★★ 3/4), yet with a brooding depth, sharp fruit tones reminiscent of grapefruit and white peach, and a surprising amount of pyrazine spice. Yet, despite how pronounced the flavors are, this wine still manages to achieve an amazing balance.
2021 Russiz Superiore Collio Sauvignon
Livio Felluga's brother, Marco Felluga, set a different course in Collio with his eponymous winery and the acquisition of the famed Russiz Superiore winery and its vineyards in the 1960s. Today, his granddaughter, Ilaria Felluga, presides over the estate. Their Sauvignon (★★★★ 1/2) is richly tropical, high-octane and assertive. Fans of that style of wine will be pleased with this wine, as well as the Riserva, which can withstand several years of bottle aging.
Imported by Dalla Terra
---
Collio Ribolla Gialla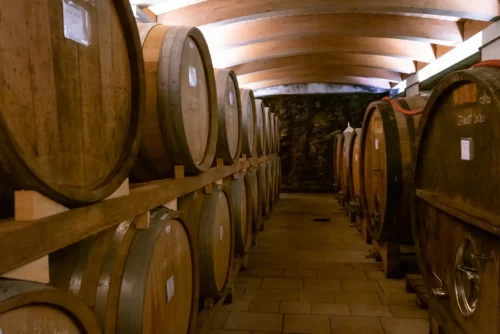 Next to Friulano, Ribolla Gialla is the second-most important native grape in Collio, although you might bump that ranking up a bit if you included the famous macerated versions of this grape from the Oslavia subzone. However, those iconic "orange wines" are often done outside the DOC guidelines and listed as Venezia-Giulia IGT.
Ribolla Gialla is a delicate and fickle grape, preferring a wetter climate as well as slopeside vineyards for adequate drainage. That puts many of its greatest expressions squarely in the eastern edge of Collio, in Oslavia and San Floriano del Collio. Unmacerated versions are very light, elegant and offer a toasted-nut character that is unique. Macerated versions are full-bodied, serious, and a carnival of complex and hedonistic aromas.
2017 Korsic Collio Ribolla Gialla
This non-macerated rendition of Ribolla Gialla (★★★★ 3/4) comes from the Korsic family from the picturesque village of San Floriano del Collio, which practically straddles the border with Slovenia. This is a subtle and shy wine, but if you give it focus and attention, it is actually quite beguiling. The juicy acidity wants to run across the palate, and Ribolla's natural flavors — akin to roasted almonds and delicate pear — were noticeably present. I kept coming back to this wine over a multi-course dinner, because it just kept speaking to me, even if its tone and tenor were more reserved than others.
2018 Primosic Ribolla Gialla Collio Riserva
One of the founding members of the Collio Consorzio in 1967, Primosic has a lengthy yet not-well-known history in the area. They are in Oslavia, just down the road from Gravner and Radikon but up the road from La Castellada. The approach to winemaking with this Ribolla Gialla Collio Riserva (★★★★ 3/4) is more Radikon than Gravner, with two years on the lees in large Slavonian oak after a lengthy, 30-day maceration. It spoke of leather, oranges and roses, with silky tannins and a tea-and-honey disposition on the finish.
---
Collio Malvasia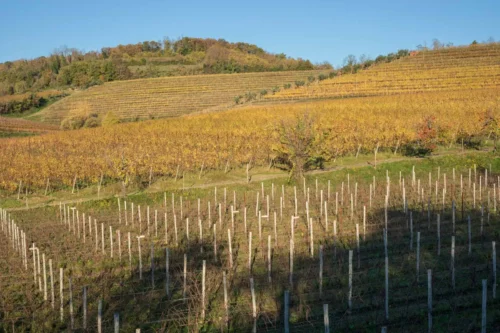 Of Friuli's native grape varieties, I think Malvasia Istriana is the most challenging to pin down. It can feel like a greased beach ball at times: wide, slippery and hard to handle. Several of the versions I tasted were either finding their form still, or they were neither here nor there.
The grape is a distinct clone within the Malvasia family (spend anytime reading up on Italian "Malvasia" and you'll know what a mess it is to sort out). It is found to Croatia, Slovenia and the edges of Friuli — such as Collio — where it has adapted to the tension in the climate. Good Malvasia Istriana wines will seem salty on the finish, and they should have a crisp line of acidity to counter their tendency toward heft and alcohol. I am spotlighting two here.
2021 Venica e Venica "Petris" Collio Malvasia
No, that's not "Petrus," it's "Petris" (★★★★ 1/2). Giampaolo Venica said there is no relation whatsoever, before cracking a smile and laughing. In fact, they did name a road on the estate Petrus out of respect for the great Merlot estate in Pomerol, France, and these vines happen to line the road. So they invented the vanity name for this tightly compact yet complex white wine which nicely holds back on the alcohol and body to achieve its balance. I was reminded of honeysuckle on the finish, which was the wine's true highlight.
2020 Borgo del Tiglio "Italo e Bruno" Collio Malvasia
I covered the Italo e Bruno vineyard extensively in this vineyard story a few months ago. It is worth a read, because the mercurial nature of Malvasia Istriana will be apparent to you. Nicola Manferrari is a masterful winemaker, but his wines require ample attention from the drinker to fully appreciate. The "Italo e Bruno" Collio Malvasia (★★★★ 3/4) demonstrates this more than any other wine of his, as it takes forever for the fruit tones to emerge on the palate. But when they do, its like a crescendo of music — everything coming together.
---
Collio Bianco (Blend)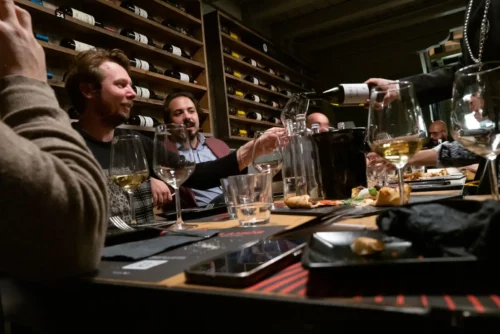 If given the choice to select one category of Collio wine to stock my wine rack with, I'd choose the catch-all for the blended white wines, the Collio Bianco. This is where the mastery of winemaking comes to fore, and where balance, depth, complexity and deliciousness all seem to merge with the most consistency.
I was visiting Collio initially with a small group of journalists. (Thanks to my paid subscribers as well as some resources from the Collio Consorzio, I was able to extend my stay for a long weekend and see more of the area's producers). On our final night together, we dined at a new wave pizzeria called Flamor and all the Collio Bianco came out. Percentages are up to the producer, but Friulano tends to be the backbone of these wines.
2020 Raccaro Collio Bianco
Raccaro's 2020 Collio Bianco (★★★★★) is one of the best Italian white wines I've tasted in recent memory. It leans heavily on Friulano's pitch-perfect acidity and is seasoned by Ribolla Gialla's depth, Pinot Grigio's body and Sauvignon Blanc's riot of flavors to achieve a radiance that I call "summer serious." Raccaro does not make a lot of wine, and they don't chase a lot of different ideas. They have their lane, and everything they do in that space is top-notch.
2020 Renato Keber "Beli Grici" Collio Bianco
Another overlooked estate in Collio is Renato Keber. I was thrilled by every wine I tasted from this estate, and the "Beli Grici" Collio Bianco (★★★★★) was no different. A blend of Pinot Grigio, Pinot Bianco and Ribolla Gialla, this beautiful wine lives a shape-shifting life in the glass. I am lending top marks for this wine's beguiling and precise aromas; its featherweight body and elegant, lilting acidity; and for that hidden but memorable tertiary note that had me thinking of juniper berries.
2020 Martissima Collio Bianco
Sommelier and winemaker Mitja Sirk poured this wine (★★★★★) for me when we met to discuss Friuli's complex terroir. Made by Marta Venica of the famous Venica family (who is also Mitja Sirk's partner), the wine is a single-vineyard blend of Collio's top indigenous white varieties — Ribolla Gialla, Friulano and Malvasia — which are co-fermented. The wine's focus seems to be second-nature, as if those grapes growing and fermenting together allows them to know where their going together in the glass. Highly aromatic and marked by great depth, the wine's creaminess is nicely countered by a minerality that invites a second (and third) sip.
---
Collio Cabernet Franc & Collio Merlot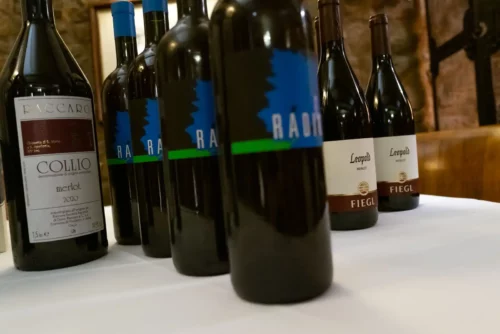 In a country stacked with exciting indigenous varieties that have adapted to the terroir over centuries, you may ask "why bother with Merlot, Cabernet Sauvignon or Cabernet Franc?" If we're talking Tuscany, I agree with you. The solar conditions are often too much for these grapes that far south, but in Friuli Venezia-Giulia — and to a lesser extent, in the neighboring Veneto — Bordeaux varieties find the right conditions to excel, and there is solid documentation that they've been here for centuries, too … certainly long enough for rarer old vines propogated with massal selection to adapt to the terroir like the indigenous varieties have.
As a result, the Collio is likely the best place in Italy for red Bordeaux varieties. There is enough Adriatic influence to ensure ripening, enough alpine influence to keep alcohol and body in check, and that magical ponca soil to ensure the acidity levels are wound perfectly tight. Combine this terroir with the know-how of this community of winemakers, and you have a very exciting place to stock your cellar of Bordeaux-style classics with a Friulian twist. Below are five of my favorites.
2019 Russiz Superiore Collio Cabernet Franc
I'll never forget watching a friend of mine (who works in wine distribution), successfully call this wine in a blind tasting where it had been mixed in with Loire Cabernet Franc. Only 10,000 bottles are made of Russiz Superiore's classic Cabernet Franc (★★★★ 3/4), but that's enough for it to build quite a reputation. It is a profound wine with incredible depth and plushness, and just the right kiss of oak to lend it a velvety texture. The tannins are like soft cotton, which transitions nicely to a silky finish.
2020 Venica e Venica Collio Cabernet Franc
I have a policy of not listing wines on Opening a Bottle that are not imported into the United States, but I have to make an exception to that rule with Venica e Venica's juicy, Chinon-esque Collio Cabernet Franc (★★★★ 3/4). For one, Venica e Venica is well represented here, they just don't include this wine in their shipments (so maybe we can settle this with a nudge-nudge?), but secondly, I thought this wine was magical. It was the only wine I bought an extra bottle of to take home. It is forward with its wholesome raspberry fruit tones, its leafy tobacco edges, its bell pepper spice, and just like the best Cabernet Franc, it saunters across the palate like an old soul with is polished tannins and long finish.
2020 Raccaro Collio Merlot
Earlier, I noted that Raccaro does not make a whole lot of wine. Well, their precious Collio Merlot (★★★★★) only represents 5% of production. You might be best off buying it at the cellar door the next time you're in Cormons. And it would be so worth it: it carries an aromatic profile that is so gorgeous, so heady and intoxicating … "irresistible" would be one way of putting it. The weight manages to be delicate (by Merlot standards) yet the structure is potent enough to satisfy those seeking some power. Two sides of the coin, wrapped up in one bottle.
2016 Fiegl "Leopold" Collio Merlot
Fiegl manages to fly under the radar of many Italian wine pros, this despite residing next door to Joško Gravner in Oslavia. Of their 21 wines, I was only able to taste one, their stellar "Leopold" Collio Merlot (★★★★ 3/4), which was the most delicate Merlot I tasted on the trip. Red and blue berry tones carry the wine, with a purity and leanness that I found surprising. But it is not a shrinking violet either: there is plenty of structure and complexity to identify this for what it is: a proper Collio Merlot.
2007 Radikon Collio Merlot
Speaking of Oslavia, I'd be remiss to not include this older vintage (★★★★ 3/4) tasted down the road at Radikon. Like all of Saša Radikon's wines, this one was aromatically wild and untamed. "I would have guessed Aglianico if it weren't so plush with its generous black cherry fruits," I wrote in my notes. That Aglianico-ness is also because of the black tertiary tones that oscillate between licorice and truffle territory, as well as the ferocious tannins that still need time to settle, some 15 years into the journey.
So what makes it a Collio Merlot in the glass? That balance of decadence and elegance, and the way it conjures hunger. Radikon's wines always make me question everything, and that's a healthy thing to seek out from time to time.
Note: These wines were mostly tasted on a press trip sponsored by the Collio Consorzio. All editorial decisions were retained by the writer. Learn more about our editorial policy.