3
min read
Of all the grapes in the white wine galaxy, Sauvignon Blanc is among the most divisive. With its citric tanginess and grassy, vegetal notes, it is an acquired taste to say the least. My parents usually have 3 or 4 bottles of it on hand. My wife would prefer it if I never bought it again.
However, Hailey might be adding a clause to that policy: "unless it is from Collio."
A few nights ago, we opened a bottle of Russiz Superiore Collio Sauvignon from the upper northeastern reaches of Italy. Collio Goriziano is the catch-all appellation name for a fleet of wines made in the heart of the Italian province of Friuli-Venezia Giulia, ranging from international varieties such as Sauvignon Blanc, Chardonnay and Cabernet Franc to more localized varieties like Tocai Friulano, Refosco and Picolit.
The adjoining appellations of Colli Orientali del Friuli and Isonzo are technically different areas, but they all share the same attributes of soil, weather, grape varieties and winemaking culture.
Based on that description alone, it would be easy to compare Collio and its neighbors to the wines of Trentino-Alto Adige — a few indigenous grapes, but a whole lot of international varieties, all grown in the shadow of the Alps.
But in terms of winemaking philosophy and the size of the estates, they are worlds apart. The scale of many of Trentino-Alto Adige's winemaking brands dwarfs those of Friuli-Venezia Giulia. (After all, someone's gotta turn out cases upon cases of Pinot Grigio). Directly or indirectly because of this, Trentino-Alto Adige's wines — particularly the international varieties — often lack personality in my opinion.
And that brings me back to the bottle of Russiz Superiore Collio Sauvignon, which — despite being made from 100% Sauvignon I've-Had-This-A-Thousand-Times-Before Blanc — showed a unique identity all its own. We paired it with a light, fish-and-fresh-salad meal and it displayed vivid citric flavors, cutting acidity, a silky texture and a lasting mineral finish.
Where it stood out most as a unique version was the absence of that funky, vegetal note we always associate with Sauvignon Blanc. In its place was something I can only describe as a hint of salinity. It's not saltiness or brine, but rather the illusion of it in the texture of the wine, which helped the wine pair magnificently with Arctic char poached in seafood broth.
Sometimes a wine is great because it raises more questions than it answers. Could it be that the wines from Collio — specifically the familiar international varieties — have their own identity because of the area's soil, which used to be a seafloor? Or could it be the winemaking culture, where smaller wineries working in smaller vineyards create such unique results? Only way to find out is to drink more wines from the area.
(On this last point of smallness, Russiz Superiore is part of Marco Felluga's winemaking estate. By Friuli-Venezia Giulia standards, its a large producer, with 26 wines between the two brands. So it's not necessarily a "smaller winery" working in "smaller vineyards" by Friulian standards, but given the size of the vineyards in Collio alone — where this wine hails from — it seems to apply).
2014 Marco Felluga Russiz Superiore Collio Sauvignon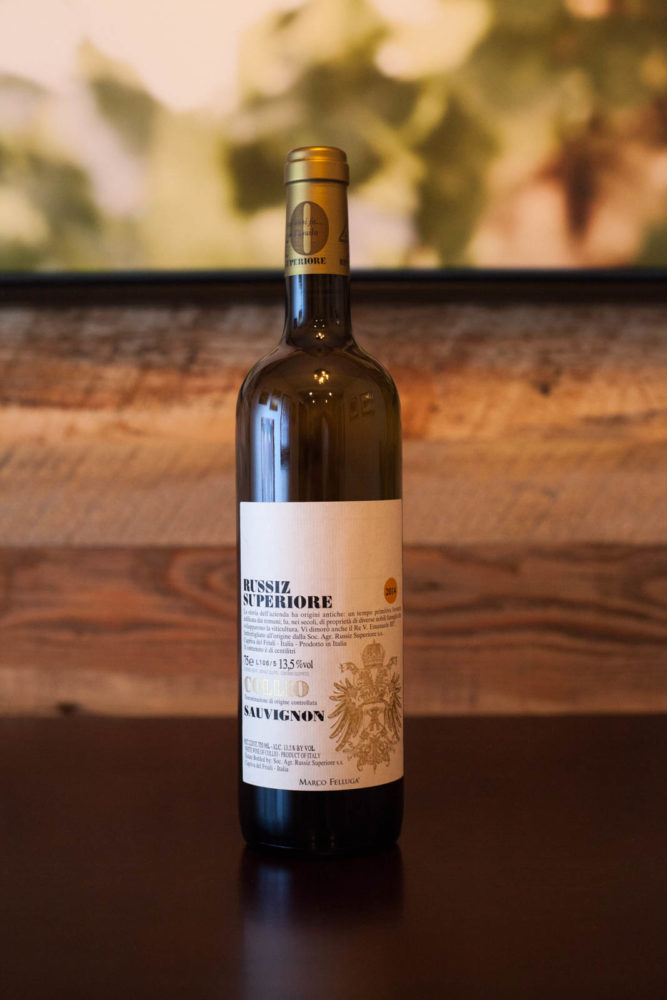 Collio, Italy
Grapes: Sauvignon Blanc 100%
Alcohol: 13.5%
Ratings: ★★★★ 1/2 (out of five)
• Aromas, Flavor & Structure: ★★★★ 1/2
• Food-friendliness: ★★★★ 1/2
• Value: ★★★★
Tasting notes: Not your average Sauvignon Blanc, but in this case, that's a good thing. Very precise and focused; doesn't stray from what it does well, which is to offer crisp acidity, a touch of salinity, and a lasting mineral-driven finish. Offers notes recalling apple, pear, wildflowers, and a hint of key lime. Good on its own, even better with seafood.

Recommended for: Partners exceptionally well with Arctic Char poached in a seafood-white wine broth (although you might not want to spare a drop of this beauty for the sauté pan).
Note: This bottle of wine was provided by DallaTerra Winery Direct. Learn more about our editorial policy.