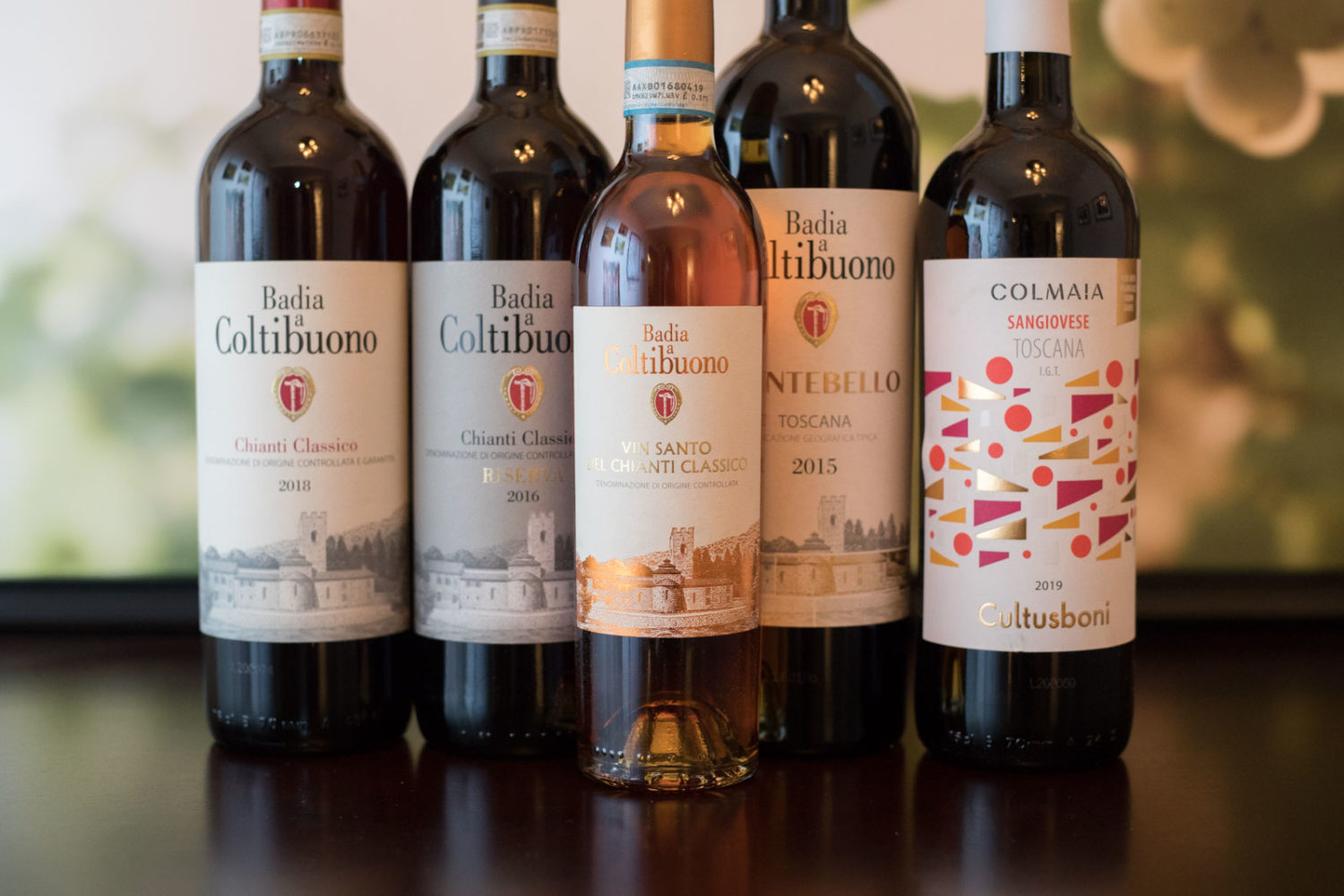 Why
Badia a Coltibuono

is Essential

In summing up Badia a Coltibuono, I can't decided between "timeless wines from a timeless place" or "wines that any gourmand would love." May as well go with both, because in a way, they're intertwined concepts.

Viticulture on the site of Badia a Coltibuono (literally "Abbey of Good Crops") dates back to 1051. The current owners, the Stucchi Prinetti family, have owned the property since 1846 when it was purchased by Michele Giuntini of Florence — a distant cousin and also a familial link to Fattoria Selvapiana in nearby Rufina, another Essential Winemaker of Italy.

Badia a Coltibuono is the conscience of Chianti Classico. There is a steady presence to the winery and its wines that is hard to quantify, but it seems that the more Chianti Classico changes, the more Badia a Coltibuono keeps the whole DOCG grounded and approachable. This is by no means a statement of holding things back or stifling innovation; rather, it is a statement on the value of preservation — specifically, the wonderful indigenous grapes of Tuscany that have long demonstrated an alchemy with Sangiovese.

Winemaker Roberto Stucchi Prinetti leads a team of master blenders, and while much of the region is trending toward 100% Sangiovese wines (and for good reason), he seems to say "hold on a second." His Chianti Classico and Chianti Classico Riserva both rely on 10% Canaiolo and Colorino to complement the 90% Sangiovese, and there is a grace and elegance to the wines that alone pumps the brakes on the race to varietal Chianti. But, as if to make the statement further, he also offers the "Cultus" Chianti Classico Riserva which is only 80% Sangiovese, with a heaping 20% from an ensemble cast of eight local varieties few have heard of. Going a step further is the Super Tuscan called "Montebello," which is the same grapes, but all in equal proportion, Sangiovese included. Both wines are stunning culinary accomplices that will have you reaching for a frying pan at first sip.

Dig a little deeper into their wealth of wines and you do find varietal Sangiovese as well as two of the finest dessert wines in Europe. It is for all of these reasons that Badia a Coltibuono will remain essential for some time.
Gaiole in Chianti, Tuscany
Grapes: Sangiovese, Mammolo, Canaiolo
Appellations/Cru: Chianti Classico DOCG, Toscana IGT, Vin Santo del Chianti Classico DOC
American Importer: Dalla Terra Winery Direct
Originally listed: April 2019
Renewed: November 2020, March 2022
Wines to Seek Out
Badia a Coltibuono has long been a leader in organic viticulture, beginning their conversion in 1985, and receiving certification in 2000. There is a patient maturity to these wines that feels immune to fashion. They are Tuscany as the timeless idyll we wish to receive. There are two brands at work here: Badia a Coltibuono for the estate wines and Cultusboni, which operates on a négociant model.
Cultusboni "Colmaia" Sangiovese
This new wine, a Sangiovese that sees no oak, is as progressive as it is nostalgic. This is what the grape tastes like to winemakers before they move it to oak, and the snappiness and depth of the fruit — as well as an intoxicating aroma akin to autumn leaves on a forest floor — reveal the promise of Italy's most widely planted grape. At $13, this wine is one of Italy's best values.
Badia a Coltibuono Chianti Classico (annata)
This brilliant wine will have you revising your word bank of descriptors for Chianti Classico: fresh, vibrant, comforting. Again, this is Stucchi's interpretation of his land, and it reads like a poem that anyone can understand. The fruit has radiance, while an aromatic cut resembling orange peel and cinnamon completes the depiction. And if you are waiting for those predictable oaky tannins of Tuscany's past to come smother the show, you'll be waiting for an eternity.
Badia a Coltibuono Chianti Classico Riserva
As good as their affordable annata bottling of Chianti Classico is, the Riserva kicks the seduction up several notches. It's deep, savory and fruity, bold yet delicate and generous. If you want to start a wine cellar on a budget, start here. As it ages, it reveals layers of spice, herbaceousness and even subtle sweetness.
Badia a Coltibuono "Cultus" Chianti Classico Riserva
Badia a Coltibuono is among a cadre of Chianti Classico producers who use the Riserva level — rather than the Gran Selezione — as their top level. Because it is only 80% Sangiovese, "Cultus" could never be a GS, which mandates 90% inclusion. Although, in his understated way, Stucchi Prinetti seems to prove a point with this wine that — when handled correctly and with care — the indigenous blending grapes of Chianti can still create astonishing results. With its savory elements bringing to mind aromas of bacon, as well as a plusher body that nonetheless feels elegant and precise, "Cultus" is a culinary wine by any measure.
Badia a Coltibuono Montebello
The Chianti Classico Riserva anchors the lineup, but if there is a single wine that best summarizes the generous ethos of this estate, it is their Super Tuscan. "Montebello" is everything Super Tuscans are not. Typically, when you see Toscana IGT on a label, you know what's coming: international grapes and anonymity. Instead, Montebello is Stucchi's way of overcoming what he calls "varietal bias." The indigenous reds used are all worth mentioning: Mammolo, Ciliegiolo, Pugnitello, Colorino, Sanforte, Malvasia Nera, Canaiolo, Fogliatonda and, yes, Sangiovese. The wine seduces with generous tones akin to bing cherries and walnut with a bit of dried fruit on the finish. The control of tannins — a hallmark of his work — makes it as forgiving as it is seductive.
Badia a Coltibuono Vin Santo del Chianti Classico
If there is a commonality among the red wines of Badia a Coltibuono, it is their hospitality. They are gracious to those who drink them, and never overwhelming or brash. That warmth shines in their version of Tuscany's ultimate hospitality wine, Vin Santo. Traditionally poured for arriving guests, this wine ought to be a perennial favorite for those of you who regularly host dinner parties. It's sweet but not sticky, full textured but silky, and redolent of peaches, apricots and hazelnuts.
Badia a Coltibuono Occhio di Pernice Vin Santo del Chianti Classico
There is Vin Santo, and then there is "partridge's eye" Vin Santo. Extremely rare and nearly forgotten, the 100% Sangiovese version of Tuscany's quintessential sweet wine may conjure remembrances of Banyuls. In fact, while tasting this exquisite, leathery, brooding wine, I mentioned to Emanuela Stucchi Prinetti (Roberto's sister and co-proprietor) how interesting it would be to taste the two together. What Banyuls does not conjure is Occhio di Pernice's meatiness, a varietal characteristic of Sangiovese that not only endures the 8 years of aging, but seems heightened because of it. Badia a Coltibuono's version is endlessly fascinating.