11
min read
Last year, we spent a significant amount of time exploring Trentino-Alto Adige, Italy through the lens of its wines. It was an inaugural round of such exclusive coverage, and something I'd like to do more of the coming years. (In 2020, I hope to do the same with Beaujolais).
Check out all of our coverage from The Year of Trentino-Alto Adige, including a short film
Because of this focus, I've received a lot of inquiries from readers about travel tips. So here, for your trip-planning pleasure, are my recommendations. But I must caution you: Trentino-Alto Adige is an enormous area and very, very mountainous. If you were to iron out all of its folds, it would likely stretch over all of Italy like a tablecloth dipping its edges into the Mediterranean. In other words, you need a lifetime to truly travel its many nooks and crannies. Take your time and know that you can't see it all. You will enjoy the experience even more.
---
Furthermore, unlike many wine regions of the world, wine is a secondary attraction in Trentino-Alto Adige. There is no doubt that the Dolomites — a serrated mountain range of extreme beauty, and an UNESCO World Heritage Site — take the top billing here, and rightly so. If you are visiting, you would be wise to create an itinerary that includes more than just wine. By visiting these mountains, you'll also gain an appreciation for the miracle of viticulture in this area, where the slightest fluctuations in altitude and geology are often the difference between white- and red-wine vineyards — or even, a ripe and robust vintage or no vintage at all.
One last note: while Trentino (the southern end of the region) has a decidedly Italian feel to it, Alto Adige is 100% Tirolean, a cultural entity that stretches over the border into Austria. The region is bi-lingual (tri-lingual if you count the number of fluent English speakers, of which there are many) and so destinations, landmarks, highway signs, and yes, wineries and grape varieties, are often in two languages. Because of that, I will include all place names in both languages below.
Enjoy!
How to Get There
For American travelers, the easiest airport to access Trentino-Alto Adige is Venice Marco Polo Airport (VCE). Within Europe, you may be able to find a cheap flight into Verona Villafranca Airport (VRN), which gets you a little bit closer. From Verona, the cities of Trento and Bolzano are an hour and one-hour and forty-minute drive north (respectively). Train connections are abundant, and the journey times are around the same as by car.
Will you want a car once you are there? Absolutely. Accessing the wineries and many of the mountain locales listed below via public transportation is not a timely or convenient option. (Believe me: I tried on a rainy day when I was carless.)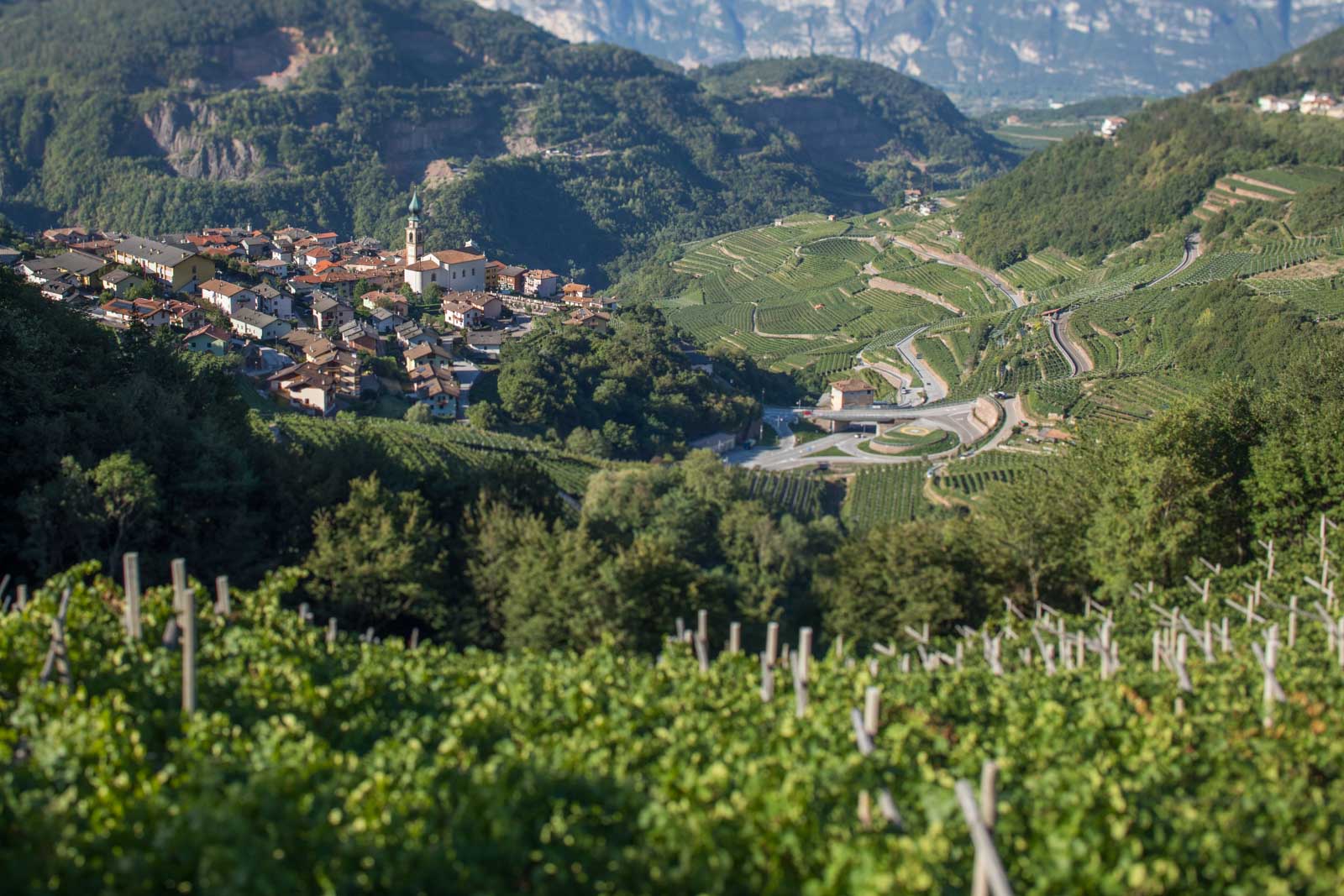 Planning Your Itinerary
You could pick one central place to stay for your Trentino-Alto Adige wine trip, but I think you'd be missing a lot of what this region has to offer. Remember: it's huge, and you'll want to see a mixture of vineyards and mountains. While the Dolomites at times look close enough to touch, they are often an hour's drive from the nearest winery, and accessing them requires patience and care (i.e. twisting, turning roads). It goes without saying, but be responsible when visiting wineries, and save the mountains for another day.
Secondly, the two provinces that comprise the region are distinctly different, and both equally worth visiting. Start by basing yourself for at least two days in the criminally underrated city of Trento, where fabulous Baroque architecture and reliably cool-mountain air set the stage for some of Italy's best sparkling wine.
When I think of Trento, I think of tiny, indelible moments. For example, an empty piazza at night set only to the sounds of a gurgling fountain. Or the waterfall that I suddenly saw from the city's heart, pouring off a distant cliff. On a Sunday evening, my friend and I stumbled upon a food-truck fest in Piazza de Fiera that showed a curiosity for global cuisine that is rare in Italy. Trento is a city of surprises. You should see it.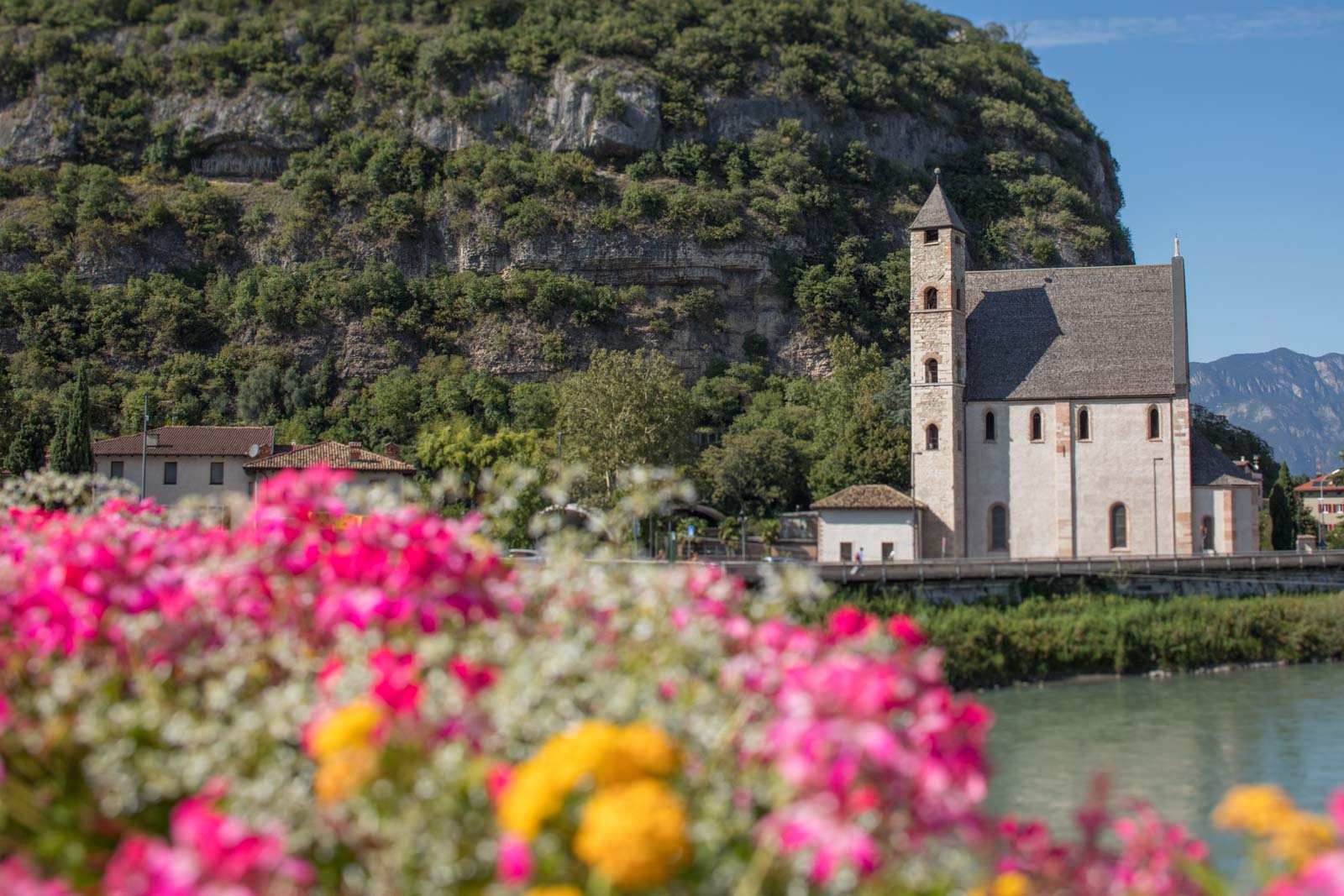 Next, set off for the city of Bolzano/Bözen. Despite being further north and upstream along the Adige River, Bolzano is significantly warmer as it is stationed in a heat trap. This warmth gives rise to red wines (Schiava, Lagrein and Bordeaux varieties leading the way), while the esteemed white varieties (Pinot Blanc, Pinot Grigio, Chardonnay, Kerner, etc.) grow at higher elevations. Bolzano has two sides: it can be gloriously beautiful with its colorful Tirolean city center, and it can be a bit gritty and anonymous in other pockets. Either way, I've found it to be a good place to explore the region's wineries given its central location.
But we're not done here. I would also highly recommend a one- or two-night stay in Bressanone/Brixen, for two reasons. This perfectly sized city in the Valle Isarco/Eisacktal northeast of Bolzano is wildly picturesque. More to the point, I think the valley's white wines are among the best in Italy.
Lastly, head for the hills. Between Bolzano and Bressanone, you can access one of the most iconic sections of the Dolomites — the Alpe di Siusi/Seiser Alm and Val Gardena/Gröden. I would recommend at least two, preferrably three, nights in the area. On your way back to Verona or Venice, swing through the Trentino section of the Dolomites for a few days by visiting the Fassa Valley.
Accommodation, winery, enoteca and diversion suggestions are below.
---
Trento Travel
Where to Stay: Hotel Aquila d'Oro
Located within footsteps of the picturesque Piazza Duomo, this 16-room hotel at first appears to be yet another snug-as-a-bug modern European hotel. (The lobby is barely wide enough for two people with their bags). But upstairs, the whimsically modern rooms are exceptionally spacious, especially given the price.
Where to Eat: Le Due Spade
This small osteria is not apologetic about its Old World charms: the dining room is aged, the service sharp and professional, and the menu is caloric to the max. In other words, it is just the right place to dine and drink a crisp glass (or three) of Trentodoc, the local sparkling wine of international acclaim. Order the venison.
Where to Drink: Scrigno del Duomo
Located on Piazza Duomo, this upscale restaurant with a bar has the perfect menu to sample the treasures of Italian wine. Go local with a glass of natural Teroldego or Nosiola, or — if you are just dying for a Nebbiolo — order a glass of Diego Conterno. Outside seating on the piazza is memorable if the air isn't too chilly.
Wineries to Visit Near Trento
I have already covered the wineries of the region extensively, particularly with my First-Taste Guide to Trentodoc. But from a visitor experience standpoint, I would highly recommend two wineries. Foradori is the top priority here because, let's be honest, no one else on earth is making wines quite like this. And the Eden-like setting beneath the glacier-carved cliffs of the Campo Rotaliano is exquisite. Another family winery worth visiting — this time for Trentodoc — is Maso Martis. Their Madame Martis is one of the region's best sparkling wines, and their family farm above the city has amazing views of the valley.
Other wineries to suggest: Cesarini Sforza, Ferrari and Endrizzi
---
Bolzano/Bözen Travel
Where to Stay: Hotel Greif
You can't beat its central location, and you can't beat the vibe either. Every room at the Hotel Greif was designed and decorated by a different artist, lending the guest experience several surprises. I remember being especially taken by the thoughtfulness of the cabinetry in Room 104 by Andrea Fogli. I was like a child who just discovered the garage door opener.
Such a cool place, and a great breakfast, too.
Where to Drink: Enovit Bolzano
Set beneath white-washed arcade ceilings and stocked with an excellent selection of local and national wines, Enovit Bolzano is the kind of wine shop I could spend way too much time in.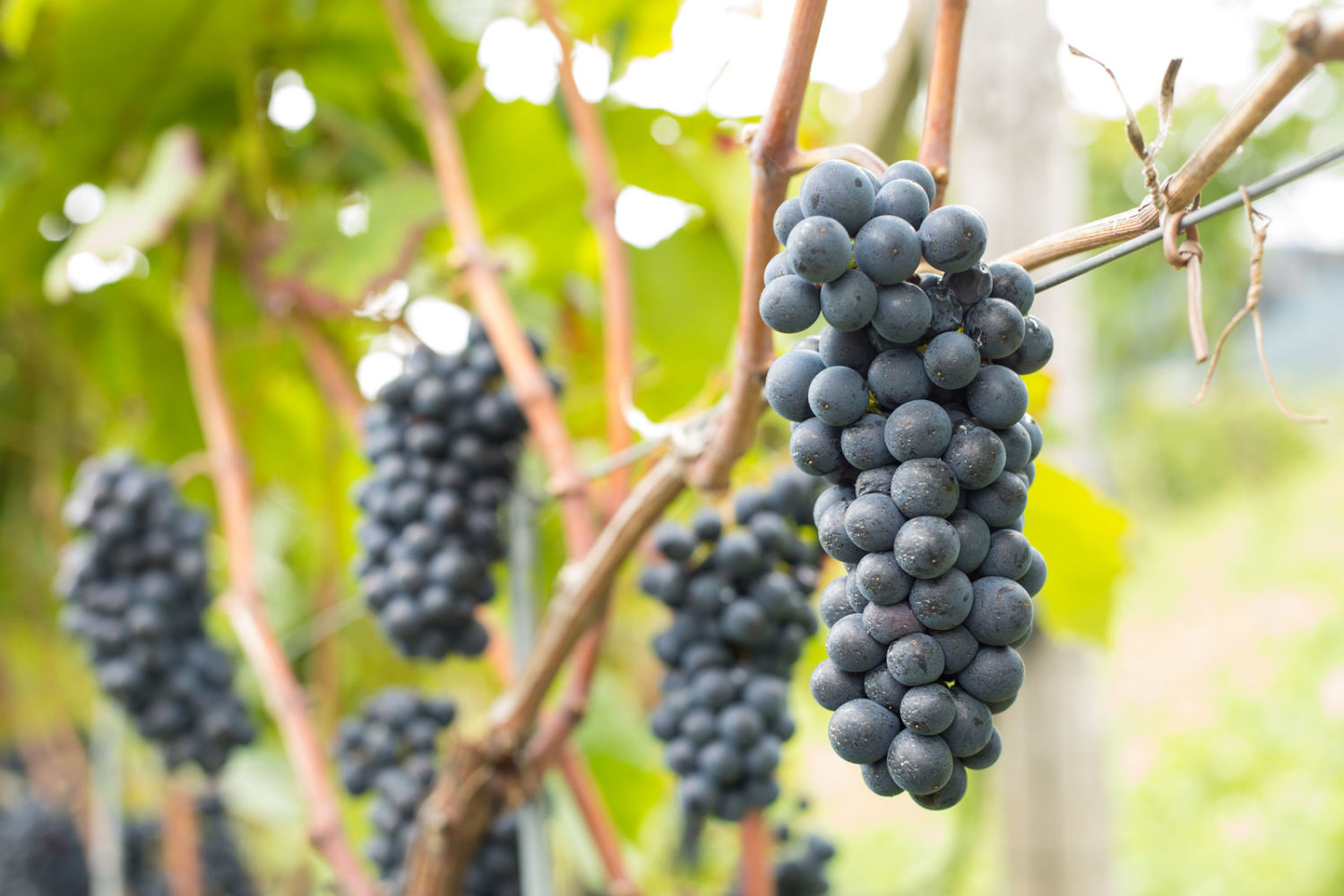 Wineries to Visit Near Bolzano/Bözen
The list is long, and I'll undoubtedly miss someone. The truth is, Alto Adige is second only to Piedmont in terms of consistency and quality among Italy's wine regions. The highs might not be as high as those in Sicily or Tuscany or Friuli, but the overall level of excellence is commendable. You can't go wrong.
I have long respected the work of Alois Lageder, a biodynamic and ambitious winery located in Magré. Their beautiful estate welcomes visitors, and while you likely won't be alone, it is worth a stop to taste and fill your head with the viticultural wizardry of their operation. Across the valley and closer to Bolzano/Bözen in Montagna/Montan is the Pfitscher family winery. Makers of exquisite Pinot Nero, among other things, this estate is currently not imported to the United States, making a visit to taste all the more special (translation: souvenirs!). Their modern tasting room seems to float over the valley.
Other wineries to suggest: Muri-Gries, Terlan, Cantina Kurtatsch and Colterenzio/Schreckbichl
Bressanone/Brixen Travel
Where to Stay: Hotel Pacherhof
Situated north of the city on a hillside overlooking pretty vineyards, this family-run hotel lays the Tirolean charm on thick. They also happen to make some of my favorite wine in Alto Adige, especially the Kerner and Grüner Veltliner. An outdoor pool, timbered restaurant and lovely courtyard make it very atmospheric. Abbazia di Novacella is just below them at the bottom of the hill.
Wineries to Visit in Valle Isarco
It is worth repeating, but the Valle Isarco is a world apart from the rest of Alto Adige. Here, the wines mimick Austria more than anything, with Riesling, Grüner Veltliner, Kerner and Sylvaner leading the way. I am convinced that the freshness that shines on the palate with this region's wines, stems directly from the unique mountain climate of the valley. Warm days and brisk nights and piercing alpine sunlight can do wonders for white wine grapes.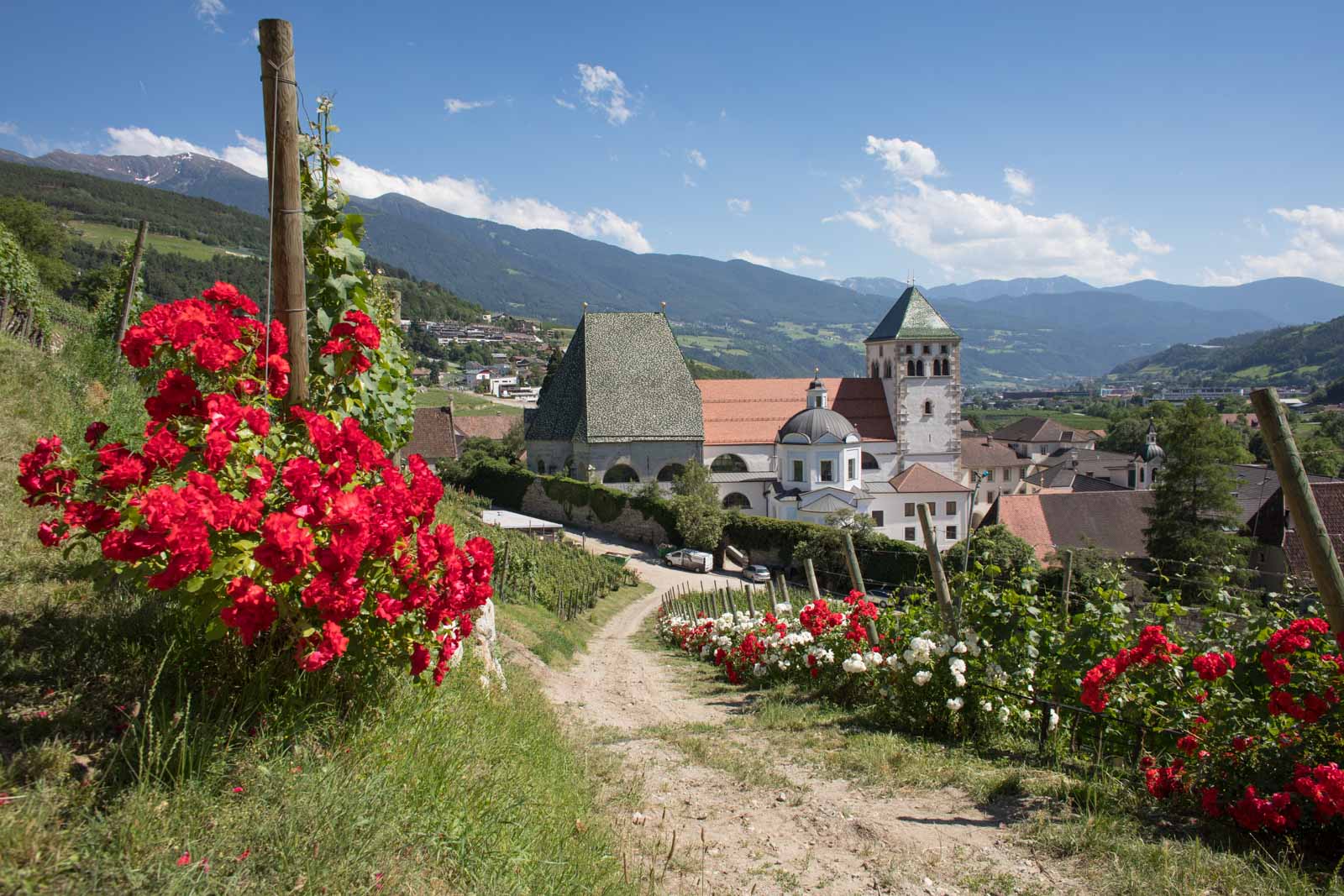 With that in mind, the aforementioned Pacherhof is a great place to start. Their rich but slippery Kerner is a stunner, and alone worth the drive. At the base of Pacherhof's hill is Alto Adige's top cultural attraction, Abbazia di Novacella. This ancient monastery is also Italy's second oldest winery, and their innovative outlook on wines is best revealed with their Praepositus line of wines. Stop by the monastery's tavern to taste the wines, then go for a stroll through the lovely grounds. Lastly, be sure to take a tour of the valley's co-op and largest producer, Cantina Valle Isarco/Eisacktaler Kellerei, another outstanding winery that justifies the trip.
Dolomites Travel
Enough about wine. Off to the mountains!
Where to Stay in Style: Hotel Schgaguler
Accommodations in the Dolomites seem to fall into two categories: über-chic totems to luxury and house music, or timbered Tirolean chalets. The Hotel Schgaguler falls into the former, yet someone threads the needle to avoid the soulless trappings of so many posh hotels. What a relief, because this was the splurge we allowed ourselves during last summer's inaugural trip to Italy with kids. The stakes were high, yet we all felt welcome, nourished and more than accommodated.
Our spacious two-bedroom suite featured a massive soaking tub and views of the enormous mountain called Schlern, while downstairs, the sauna and relaxation rooms underscored why "wellness" ought to be part of everyday life (but sadly, is not).
Where to Hike: Seceda to Col Raiser
From what I saw of the Dolomites, the most impressive mountain to view is the Sassolungo/Langkofel. At 10,436 feet, it is an impressive and imposing hunk of limestone that's worth gawking at all day long. This hike connects two popular cable cars and absorbs views of the Sassolungo/Langkofel for much of the way.
From the trim and perfect town of Ortisei, take the thrilling Seceda cable car to its terminus and wind your way downhill over 3.6 kilometers to the Almhotel Col Raiser. Then, you can take the Col Raiser cable car down — or hike — to Santa Cristina di Valgardena/St. Christina in Gröden where you can bus back to Ortisei. Or return the way you came, but it does rise 570 feet on the return.
Where to Ahhhhh: QC Terme Dolomiti
In the Fassa Valley of Trentino, this deluxe thermal spa and bath will have you asking "why can't life be lived in a bathrobe?" I spent a few hours wandering from dry sauna to bath to soaking pool to salad bar to wet sauna to rain room to dessert bar to hot tub to outdoor patio, not once feeling constrained by … well, anything. Fun fact for wine lovers: the detached dry sauna — which takes in views of the Catinaccio Group of mountains — is sponsored by Trentodoc producer Ferrari. Wine corks embedded in the wood planks provide … something or other, for your back. And empty wine bottles jut out the back wall. Beats me why, but it's cool to look at.
Where to Stay Rustically: Rifugio Fuciade
But in the end, I would trade the vivid grandeur of the Valgardena and Alpe di Siusi for the solitude and magnificence of Rifugio Fuciade any day. Located near the border with Veneto in the Trentino Dolomites, this family-run chalet-and-cabin retreat may have you reconsidering your life choices. Yes, it's that amazing.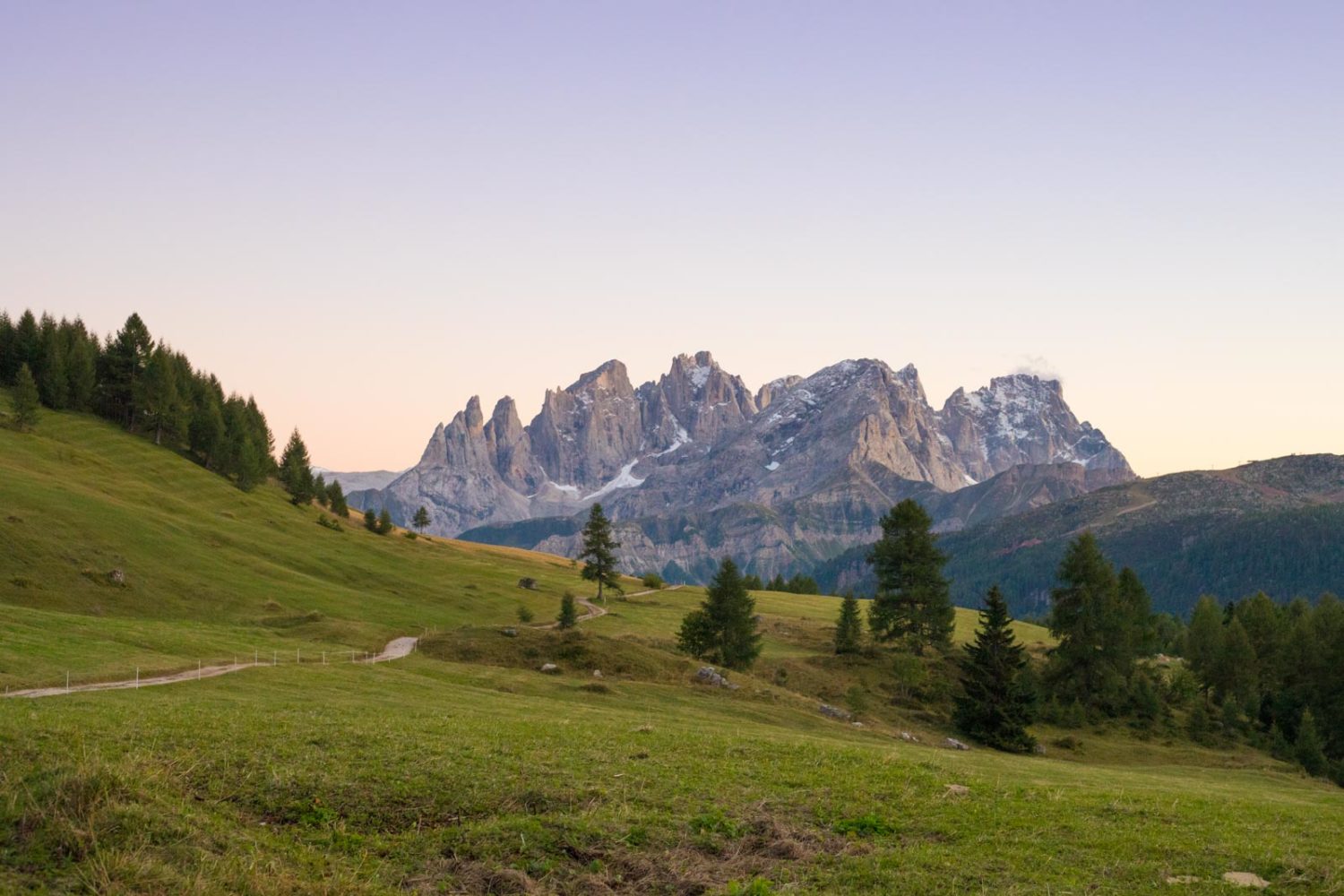 I've never experienced tranquility to this extent anywhere in Europe. At sundown — and again at sun up — I wandered around the alpine pastures and pursued every angle I could of the Costabella Group and the distant Pale di San Martino mountains. In the evening, a down-home dinner complemented by a killer wine cellar made me the happiest man in Italy, if but for a night.
---
Note: Portions of my travel to Trentino-Alto Adige were subsidized by Trentodoc and Vini Alto Adige/Südtirol Wein. However, a significant amount of this trip was not. All inclusions in this piece were at the sole discretion of the writer. Learn more about my editorial policy.